Album Review
A Logical Protege of Pete Seeger Buffs An Old Respected Folk Style Into Shiny Originals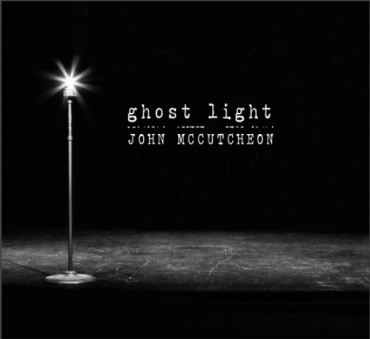 Stuart Duncan fires off the first track of John McCutcheon's 39th album -- Ghost Light, an album with his elegant fiddle playing. Along with John and Stuart are Jon Carroll who manages the ivories, JT Brown plucks the deep bass, Pete Kennedy's guitar punctuates, and of course, John McCutcheon's vocal and guitar decorate track one: "A Perfect Day." It's an upbeat wonderfully tempered opening. John's vocal is a basically traditionally standard inspired style but it has personality and an ever-present optimistic tone which sets the tempo of the entire album. I have good feelings about this one:
In a deeper vocal John sings a sprightly "This Road," that features both fiddle and mandolin and the harmony vocals of country great Kathy Mattea and Tim O'Brien provide bright support. The song is set again more in a traditional manner of old folk songs. Telling a little story that isn't too far off from the style of vintage artists such as Burl Ives, The Kingston Trio, and Hamilton Camp. The lyrics lay out a little tale that names some historical figures and the fiddle lends itself to a danceable joy.
Continuing with the colorful Duncan fiddle sawing away McCutcheon continues to add old-style color to his vocals. The folk-tradition instruments are warm and the banjo, acoustics, and piano frame the lovely tune "She Just Dances," like an old song your grandparents may have sung to you as a child. There's nothing heavy here but it lends itself to a sophisticated relevance of simply being a wholesome song from another era that seems to have found some value in a more modern day. John sings confidently and the tone of his voice is perfect for this type of song. This song's finale just cooks with the Appalachian fiddle style and is a delight. I can see a man like John being the new voice of Pete Seeger if he isn't already. Maybe he will be. By the way…
Pete Seeger was quoted saying of John: "John McCutcheon is not only one of the best musicians in the USA, but also a great singer, songwriter, and song leader. And not just incidentally, he is committed to helping hard-working people everywhere to organize and push this world in a better direction."
With a blessing like that … how can an artist like John go wrong? How can we?
McCutcheon ups the ante on "Big Day," and stirs the musical pudding faster until it congeals. Pete Kennedy's electric guitar dominates in a pleasant Strawbs style (world famous English folk-rock-prog band) and the song is soulfully uplifting. Robert Jospe's drums are tight and resonant and really drives the song beautifully especially when the piano (Jon Carroll) comes on. This is a well-played tune that gets the juices running. This is not your Dad's folk group. They prove when they have to turn up the heat -- they can do it. I love it.
With a more folk-focused vocal, "The Machine" is sharpened with a Phil Ochs edge. Woody Guthrie is mentioned, and a tale is woven slowly in a 60's style and here is where John McCutcheon solidifies his Pete Seeger inspiration. I don't always take political leanings seriously in a song but that doesn't mean I can't appreciate the structure, the well-intentioned lyric or the heartfelt attempt to pass along a message. Some will agree with its message, others won't. Unfortunately, in this day and age unless you use some real foul language a "message" song seldom penetrates the ears. Would a Dylan succeed today if he were to come along? Probably not. But, John has his heart in the right place – he is trying to pick up a torch that has fallen and maybe if he does reach it in time and raise it – it may still have some flame in it.
The most powerful song on the album for me is the title track, "Ghost Light," which features John's best vocal. A "ghost light" is a single unshaded floor lamp left onstage overnight. This is the light left for those who work the backstage when no audience is there. It's not a spotlight. I find this to be a respectful song for those who are often forgotten in show business. Nice work by John McCutcheon. Stuart Duncan's fiddles are moving and frame the song in a very moody but sincere…light.
This is John McCutcheon's 39th album – a collection of stories that for the most part is based on some truth. His storytelling is first tier and many are compelling even in some of their simplicity. But that's not an easy thing to do either. John has been nominated for a Grammy for his children's music.
Following "Ghost Light" is a beautiful ballad with excellent musicianship – "Waiting for the Rain" – the most commercially viable melody in the collection. Lovely. Jon Carroll's piano is subtle and broad, JT Brown's bass is solid, Robert Jospe's drums are steady and cohesive, Pete Kennedy's electric guitar again is very similar to Strawbs' lead guitarist Dave Lambert in style and just provides an excellent showcase to Kennedy's contribution. All of the musicians are quite good on this album. Kennedy's snaking in and out with strategic guitar melody lines that make the song drive deliciously without intruding adds just enough whiskey to this tune. This is an excellent song.
Jon Carroll's piano opens "Burley Coulter at the Bank," and John McCutcheon offers a poignant vocal on a tender ballad. A simple true story about a hometown bank – the song is about a scene witnessed by a young McCutcheon. Songs like these are what set aside standard commercial songs from the richness of Americana. This transcends folk music, it's beyond mere balladry, it's actually a statement of historic value through the eyes of a young citizen. It's what traditional songs are born from. This song could be sung in Scotland, Ireland or England and rendered in a manner that would be ageless. Think Fairport Convention, Steeleye Span, the singing brakeman Jimmie Rogers or Eric von Schmidt…or even again, Phil Ochs. This is where their legacy lies, in little songs like this one and John is right in there.
"Unaware" features hammer dulcimer, lyrics, and tradition. Politics aside, this is the McCutcheon that shines because his voice is not threaded with aggression the way a Guthrie could be, the way the Kingston Trio might be. This is more of a Gordon Lightfoot trend. John's voice is bright here, it's potent and lukewarm with elegance. Robert's drums thud with a bottom foundation that is anchored clean in the music. His percussion rumbles through with precise feeling and it all works to make the song powerful without being loud. Whether these musicians played this way as part of a plan is beyond me. I am just describing how I managed to interpret their fine work. 
With few musicians, John's band manages to sound full and at times bigger than they actually are. Track ten, "Dark Side of this Town," is another ballad with strong words and dramatic musicianship. Again, I cite Strawbs' Dave Lambert's snaking guitar style by Pete Kennedy who lays down some wonderful notes and tones. I want to commend him for maintaining a credible style that adds so much magic to John's music and his performance is motivating. Jon Carroll as well lays down piano notes and JT Brown's bass is once again solid and propulsive. John's vocals provide the magic. Deep, prophetic, confident and as the song proceeds it builds musically and is a hat tip to all those English folk-rock bands that know all too well the value of a well-arranged ballad that builds into a spine-chilling drama: Oysterband, Spirit of the West, Dropkick Murphys, the Pogues and the like. This song is one of the best in the collection. I have it on replay.
"Me and Jesus" is a clever lyric with a powerful John McCutcheon vocal. It features only John's lone vocal with Jon Carroll's piano and JT Brown's bass. A solid effort. There's an exhilaration about it. And that's all to John's credit who sings this with emotion and consistency. As spare as this song is it could be a show closer because it has that kind of projection and strength. While not spiritual, not gospel or preachy -- this song has grace in it.
Nearing the close, "The Story of Abe," is a song inspired by a talk with an author of a book My Adventures with God -- and John continues to use dark moments to enlighten listeners. A little bit about the Holocaust, a little about reminders of the past, strangers, awkward ways certain people move through life, Warsaw ghetto, decades ago, lifetimes ago. Yet, the intensity is carved down to a slight piece of a momentous music that contains a little drama but is never bombastic. It is a sad tale that is mentioned only to remind and explain. A look for hope and understanding. Jon Carroll's accordion sets the atmosphere and John's hammer dulcimer captures the mood. For serious ears? Yes.
The final track is a tad more upbeat. Very Euro-folk. "When My Fight for Life Is Over" is mindful of The Chieftains, Moving Hearts with Christy Moore and so many other important and respectful folk bands of Scotland, Ireland, and England. Where the finest age-old stories come from and have penetrated for centuries into the lands of Appalachia. John sings perfectly in a traditional voice -- the band is set in high vintage folk gear. The song was discovered in the Woody Guthrie archive in 2005 – an incomplete song that John helped finish and now is for the ages. I didn't always agree with everything Woody sang but the man was a genius with songwriting and he was a true original. The fact that we can discover unfinished material from such an artist to this day is a credit to his originality and his prolific pen. With the assistance of a John McCutcheon – we need not worry that these songs will not see the light of day in a quality manner. I applaud the effort. 
This album was produced with care by John McCutcheon and Bob Dawson and recorded in Virginia and Nashville, TN. All songs except for the last track were written entirely by John McCutcheon. The album art was designed by Maureen Breier at Bias Studios. It's a three-panel die-cut fold out – in its simplicity it's classy and sophisticated. Definitely reflects the type of music contained on the CD.
Website: https://www.folkmusic.com/
FaceBook: https://www.facebook.com/John-McCutcheon-166909916655518/
Disclaimer: The opinions expressed in this review/commentary are those of the author and do not necessarily reflect the official position of No Depression. All photography is owned by the respective photographers and is their copyrighted image; credited where photographer's name was known & being used here solely as a reference and will be removed on request. YouTube images are standard YouTube license.
John Apice / No Depression / February 2018