Album Review
At Long Last, The Delines Reunite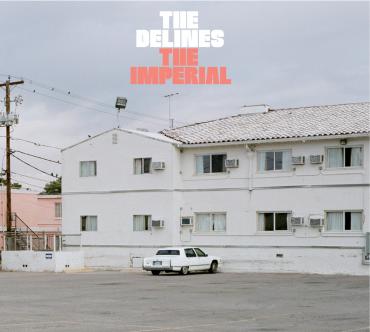 "I waited so long / Do you think we could be us again?" Amy Boone sings on the hazy, beautiful "Let's Be Us Again," off the long-awaited new record The Imperial from The Delines. It's a song about reuniting with a lost love, but it sticks out more for the way it seems to deliver a poignant message about the band finally coming back together after their unintentional and challenging three-year hiatus.
The Delines were originally an experiment — a meeting of the brilliant mind of writer and guitarist Willy Vlautin and the brilliant vocal talent of Boone. Their 2014 debut, Colfax, was a gorgeous gut-punch of gritty, slice-of-life Americana. It conveyed a pained longing for something greater, bigger than ourselves, through songs that were not only memorable, but on heavy rotation for countless listeners and critics. So when Boone suffered devastating injuries after being hit by a car, things came to a screeching halt for The Delines, despite having much of The Imperial completed. As Boone has been through a lengthy and grueling recovery, the group has been able to pick up where they left off and remind us what we've been missing over the last three years.
Joined by drummer Sean Oldham and bassist Freddy Trujillo, with keyboards from Jenny Conlee (The Decemberists) and keys and trumpet from Cory Gray, Boone and Vlautin have crafted another stunning, smoky landscape with The Imperial. Boone's voice is as smooth and warm as ever, like a sip of strong whiskey, especially on the moody slow burn "Waiting On Blue" and the sultry heartbreaker "He Don't Burn For Me." The latter is a standout for Boone's ability to so deeply inhabit Vlautin's narrators, and for Gray's dreamy trumpeting that concludes the song.
The album's title track is a mellow pop groove that treats us to Boone's higher register before bursting into a lush chorus that fills every inch of space. Another tale of reuniting — there are quite a few on The Imperial — that tells the story of a woman meeting her old lover again after he gets out of prison, it feels like the album's centerpiece. The spirit of joining together again, remembering the good times and all the love shared between people, is prominent on this record. It's fitting for what this group, and especially Boone, has been through, and it feels so good to have them back.
*            *            *            *            *            *      
Your subscription helps keep independent roots music coverage alive! Subscribe to No Depression now and join a community of roots music fans from around the world.