Album Review
A Long, Strange Journey with The Yawpers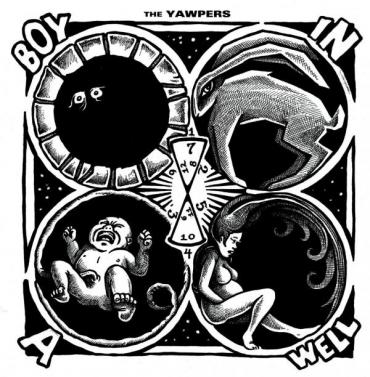 Concept albums can be tricky, too heady, or seemingly intimidating. But when they're done right, they can be fascinating and engrossing, drawing you into a highly specific world from the very first note and not releasing you until the last. Denver-based band The Yawpers's followup to the nuclear blast of rock and roll that was 2015's American Man is a concept album of this type. Conceived in a kind of fever dream by frontman Nate Cook, Boy in a Well tells the story of a family torn apart by war through the perspective of a boy left in a well by his mother during World War I in France, and it envelops and hypnotizes all the way through.
A frenetic mix of psychobilly, punk, and even melodic pop rock, Boy in a Well is twisted and zany. It also has the magic touch of Tommy Stinson (The Replacements), who produced, and an accompanying visual component – an astoundingly detailed comic book telling the story of the boy, created by J.D. Wilkes (Legendary Shack Shakers). It has all the mixings of a sprawling drama: tragedy, violence, revenge, mystery, and murder, not to mention, religion and delusion, and coming of age. It is intricate storytelling under the guise of thoughtful, precise rockand roll arrangements, like getting your medicine with a spoonful of something so much more delicious.
"Armistice Day" is a menacing, slow build of heavy guitars, and "A Decision is Made" is devilish rockabilly, with Cook as a dark-cloaked version of Elvis with fire in his eyes. "Mon Dieu" is similarly rockabilly-tinged, ideal for booty shaking and head banging, simultaneously. And "Face to Face to Face" (a song that finds the mother of the boy in the well having an affair with him) is equal parts sultry and creepy-crawly. "God's Mercy" is the album's sole ballad, and it's an Americana beauty, even with its sad subject matter (the boy kills himself). "Bury me now/to my childhood home," Cook wails.
By the time the record (and story) comes to its end, with the rollicking, hook-y "Reunion," we've been through a long, strange journey and we're grateful for the lightness of this track. It's catchy and pure, with a '50s era melody that will have you bopping along to it. That is, until you realize you're grooving to a song about a dead baby that was the product of incest being dumped into the same well where his father's bones now lay. Leave it to the cheeky and kinda brilliant Yawpers to trick us that way.