Album Review
Los Straitjackets Tackle Nick Lowe's Beloved Tracks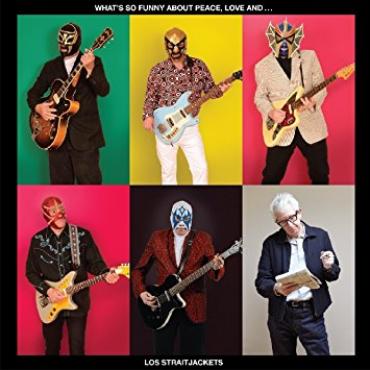 You're not imagining it. The title of the latest record from guitar band Los Straitjackets sounds a little familiar. What's So Funny About Peace, Love and Los Straitjackets is something of a tribute, as the group offers us their versions of some of Nick Lowe's most iconic tunes. After multiple tours with Lowe, the beloved singer songwriter rubbed off on the Nashville band made up of Danny Amis, Eddie Angel, Greg Townson, Pete Curry and Chris Sprague. For more than 20 years, they've been giving us rambunctious guitar rock from behind their infamous Mexican wrestling masks, and with What's So Funny, they show no sign of stopping.
            The fivesome are joined on the record by Geraint Watkins, longtime keyboardist in Lowe's band, and even Lowe's producer Neil Brockbank. Los Straitjackets inject their spicy flavor into songs like "Cruel To Be Kind", "Half a Boy and Half a Man", and "You Inspire Me", rearranging favorite Lowe tunes to suit their classic surf guitar style. There's just enough there to make you remember these are songs you know and love, yet the band makes them their own with each speedy tickle of strings.
            Perhaps the prettiest of the bunch is the twinkling melody of "Raging Eyes", which feels like lighter fare for Los Straitjackets. The elevated, ethereal song will make you swoon and fall in love. The rowdy booty shakers "Heart of the City" and "Shake and Pop" will make you forget you're listening to Lowe songs, and remind you why you treasure Los Straitjackets. But ultimately, What's So Funny is a tribute to Lowe's songwriting, not just as a lyricist but as a master of melody. As soon as you hear that gorgeous guitar riff from the title track ("What's So Funny 'Bout) Peace, Love and Understanding?"), you'll fall head over heels all over again.