Album Review
Lucero - Live from Atlanta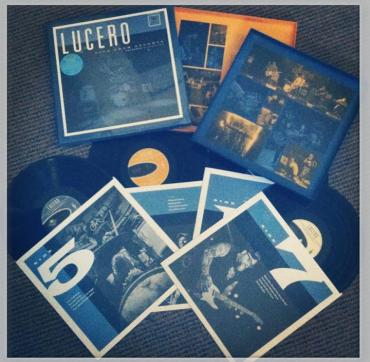 After 16 years of touring and rocking their way across the US and Europe, Memphis-based seven piece (sometimes eight with Glossary's Todd Beene on pedal steel guitar) Lucero has finally released a live record. It captures the rapture that any true fan has been swept up in via a live show experience. Live from Atlanta was recorded during a raucous three-night stand at Terminal West in Atlanta, GA during the latter parts of November 2013, a gathering I was more than depressed to have missed. What culminated was a double disc/quadruple vinyl set that proves a viable example of what it's like to see the band live. 
I can't even remember how many times I've had the luxury of being at a Lucero show.  I've seen them in several different states and settings in my 11 years of rabid fanhood, and every show is great for different reasons. I've seen sloppy shows, super tight shows, drunken shows with frontman Ben Nichols laying on the stage floor by the encore, the most punk rock set, and even the most country set they can put together. That's the beauty of Lucero, especially in a live setting: you never quite know what you'll get, much like their influence The Replacements' shows in the 80s. One thing is certain, however, you will be singing along and having a damn, good time.
Lucero ("bright star" in Spanish) is Ben Nichols on vocals and guitar, Brian Venable on lead guitar, Rick Steff on keys and squeezebox, Roy Berry on the drum throne, John C. Stubblefield on bass, and Jim Spake and Scott Thompson collectively forming one of the finer horn sections around. Live from Atlanta is an anthology of Lucero's custom brand of Memphis soul-infused, country-tinged, punk-bridled, Americana rock and roll. It touches on songs from all of their nine studio records and even an ivory-clanking anthem, "Rick's Boogie", from Rick Steff's solo record. It is one of the finer live albums I've ever heard, a perfect introduction to the band for those unacquainted, and a staple to spin on the turntable belonging to the weathered Lucero Diehard.
For those unacquainted, it usually starts like this:  You hear a Lucero song, it intrigues you, you search for the album, you can't stop playing said album, you move on to buying up everything from Lucero you can find, including two independent documentary films on DVD. Your thirst is still not quite quenched. You see them live and now you've been bitten by the proverbial Lucero bug. The rest is history. You've become a Diehard and life is now scheduled around when the band is coming within a 100 mile radius of home. Ask any Lucero Diehard and I'm sure they'll attest  this is how it transpires.  The secret to their success is not only great songs and shows, but how accessible the band is to its fans. You'll almost always have a chance to meet Ben and the boys to tell them "thank you" and how much their art means to you, a modest and genuine group of gentleman that just happen to be able to melt faces on stage.
If not a fan, do yourself a solid and pick up a copy of Live from Atlanta. This is the record that'll win folks over and, I predict, catapult their fanbase into another realm. The packaging alone is worth the money spent, featuring several images from photographers Nicole Kibert and Adam Smith, the latter of which I had the pleasure of interviewing and writing about a few months back.  Lucero has just announced the "By The Seat Of Our Pants Tour", where they will be opening their shows with a full-band acoustic set in New York, Boston, Los Angeles, and San Francisco -- a three night stand in all four cities this fall. Long live rock and roll.
http://www.luceromusic.com/site/
+Words: Scott Zuppardo+
***Please visit Sad Songs Keep The Devil Away at www.ssktda.com for more musings***
music submittals: sadsongskeepthedevilaway@gmail.com