Album Review
Lukas Nelson's Real Promises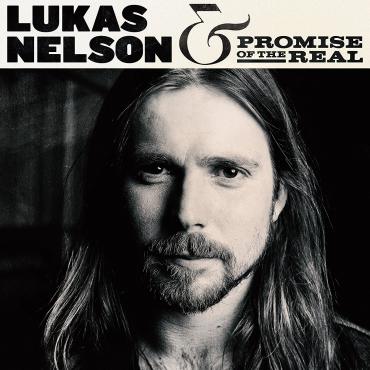 He's got long hair and a bus, and a tour schedule fit for any dedicated road dawg. But that's about all Lukas and daddy Willie Nelson have in common. Willie had Lukas and brother Micah onstage with him since they were babies, but his style didn't rub off. Lukas' band, Promise of the Real, delivers what he calls "cowboy hippie surf rock."
That description is a bit nebulous. Right away, Nelson and company take off down the road miles away from that destination, delivering soul-soaked country gospel garage rock on the opener, "Set Me Down On A Cloud." Recycled from their last release, 2016's Something Real, this version has doubled in length and sports a guitar solo worthy of a blues-rock god of the Bonamassa or Satriani persuasion.
Micah, formerly on vocals and guitar, has been part of the cast on past efforts, but appears on only one cut here, credited as a "guest musician" playing piano and banjo on the Appalachian-tinted "Runnin" Shine," but his contribution is muted, with Lukas in the forefront, his vocals reflecting traces of his father and of his mentor, Neil Young, who invited them to record and tour with him for 2015's The Monsanto Years.
Newfound buddy Lady Gaga is included on a couple of tracks. Nelson met the pop icon through actor Bradley Cooper, who was impressed enough after seeing Nelson perform to invite him to work with him on the music for the remake of A Star is Born he's writing and directing. Gaga, under her given name, Stefani Germanotta, is the star. Nelson befriended her, and the two started writing together. Gaga sings backup on "Find Yourself," a quirky love ballad that sounds like Billy Joel fronting Little Feat on Allen Toussaint's "What Do You Want the Girl To Do." She's also featured in the background on "Carolina," a wistful love song resembling Roy Orbison channeling Glen Campbell.
Willie jumps in with his trusty steed Trigger, his beat-up Martin acoustic, on "Outside Of Austin," joined by sister Bobbie on piano. Once again, Lukas does that Orbison tackling Glenn Campbell thing in "Gentle On My Mind" mode.
Nelson finally gets around to that cowboy hippie surf rock thing on "Four Letter Word," displaying some psychedelic swamp guitar skills. Despite the title, it's a erudite country-style pondering on real commitment, because "out here in the country, forever is a four letter word." Who knew?
In days past, such genre hopping would be a marketing nightmare, with record stores having no idea what bin to stash it in. But these days, you can surf the prairie, long hair flyin' as you rock along, and still find a corral waiting at the end of your ride. Giddy up, dude.