Album Review
Luther Allison's Resurrection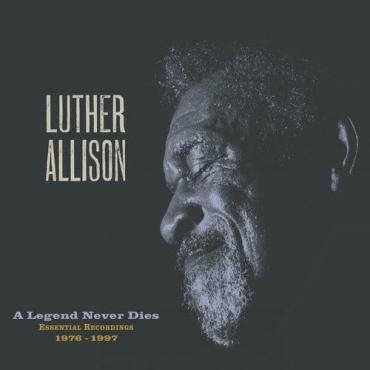 Luther Allison was all-in, all the time. Every gig, every record was an electrifying, sweaty affair that started as soon as Allison hit the first note. Alligator Records founder Bruce Iglauer says that Allison told his band "when you can't play louder, play faster." But volume and speed were only minor tools in Allison's arsenal. In addition to his fingers, his tongue came into play; he often used it to pluck his guitar strings. That was a cool trick, but the guitarist didn't need to rely on gimmicks. His ferocious attack featured stinging licks like Albert King and Albert Collins in the same body fighting each other for domination.
Former Allison European agent and Ruf Records founder Thomas Ruf put together this box set retrospective, and it's as deluxe as it claims. With your choice of 4 DVDs with either 7 CDs or 7 vinyl albums, it's a comprehensive overview of Allison's career from his signing with Ruf in 1976 'til his untimely death from lung cancer in 1997.
Allison had made a name for himself starting out in Chicago in the late '50s. He played in Bobby Rush's band as a teenager, but Otis Rush was the guitarist he idolized. Allison played major festivals and clubs across country with his own band in the early '70s, with a breakout performance at the 1972 Ann Arbor Blues Fest leading to Allison being signed to Motown as their first blues artist that same year. Although his stateside efforts met with critical acclaim, it was still hard for a bluesman to make a living in the States in those early years, and the guitarist had to resort to working at car washes to make ends meet. His European tours, including an appearance at the 1976 Montreaux Jazz festival, were more profitable, and Allison started booking regular tours overseas. Relocating to France in 1983, Allison's output started to garner worldwide attention, and Allison was persuaded to return to America in the early '90s by Ruf and Iglauer.
Thomas Ruf collated this sampling of Allison's work, starting with the live recording of the complete 1976 Montreaux show. Allison's rendition of Allen Toussaint's "The Bum Is Mine" is worlds away from King Biscuit Boy's 1974 take, which sounds plodding and stodgy next to Allison's version with his searing, soaring guitar sweeps taking it far above the big footed, bottom line stomp. Willie Dixon's "Little Red Rooster" gets blow-torched into a crispy critter on Allison's 12 1/2-minute rendition, reduced to a simmer as Allison plucks it delicately for a few bars before turning up the heat back up to scalding, wringing out all the juice.
It's hard to focus on just one of the albums when there are so many goodies enshrined on all seven records. The vinyl sounds incredible, putting you right there in the moment, wrapping Alison tightly around your ears, vibrating your frame from top to bottom. While you're hopping around, check out "Soul Fixing Man," from 1993, rendered here on the Ruf release Bad Love, featuring the Memphis Horns, Wayne Jackson on trumpet and trombone and Andrew Love on saxes. It's a massive soul, blues, and rock collusion with Allison hammering away at the premise, fixing souls with his incendiary guitar delivering sledgehammer licks as fluid as they are percussive.
For a complete change of pace, check out Allison's unplugged effort, 1992's Hand Me Down My Moonshine. "Good Morning Love" recalls powerful folk singer Josh White's smooth delivery and mellifluous voice. "Meet Me In My Own Hometown" sounds like a Piedmont blues that Brownie and Sonny would have been proud to claim, simple and powerful, with son Bernard helping out on acoustic slide and vocals. Even without electricity, Allison sounds like an amplified orchestra.
There's more father-and-son duets on Let's Try it Again, recorded in West Berlin in 1989.
Recorded in Memphis, 1995's Reckless brings Allison back home. He declares his arrival stateside with "I'm Back," a red hot Johnny Winter-style blues rocker with Allison roaring and tumblin' through a four-minute blues/rawk scorcher.
But if you think Allison's auditory signals rock your world, wait till you get to the DVDs. Allison didn't waste any time warming up; he came out blazing. On the earliest DVD offering, 1987's Im Konzert: Live In East Berlin, Allison comes out playing as hard as most artists do for their closing number. He's soaking wet from the get-go, the band looking like they've run a marathon, and the show is just getting underway. His intensity is mesmerizing. On "Show Me A Reason," he emulates B.B. King, but with more intensity, abandoning the mic entirely, standing on the lip of the stage roaring out the lyrics, his powers of vocal seduction so strong that the audience in this huge hall remains motionless and so quiet that you can hear every syllable. But that doesn't last long; Allison gets back to work shreddin' and sweatin' till he gets to the closer, Otis Redding's final release, "Sittin' On The Dock of the Bay." His version is stripped down in more ways than one. By this point, Allison has shed his coat and shirt and is down to a tank top, just him and a microphone, channeling Otis. But this resurrected Otis is reanimated with big sweaty soul, a tent revival evangelist serving up deep-dish soul.
Even more intense and touching is his pairing with son Bernard on 1991's Ohne Filter, putting his son through the paces, tearing through the Chuck Berry-inspired rocker "Parking Lot," a sweat-soaked love fest that has Bernard matching his dad lick for sweltering lick, literally, on an in-tandem tongue plucking demo before getting back to the hands-on rockin'.
Lots to see and listen to here, so you better get started, and soon. Editions are limited to 1,500 CD sets. It's a solid  investment that'll stand the test of time.