Album Review
Luxuriant Sedans Sophomore Ride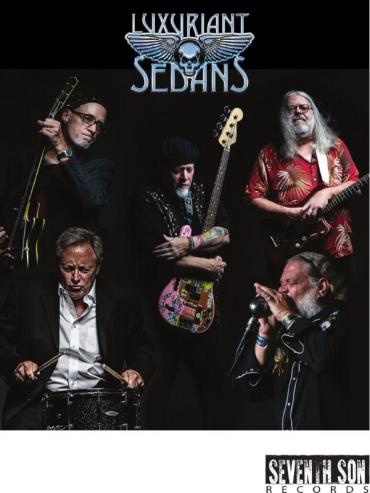 They call their model a plush ride, but this vehicle is as much about power as luxury. Winston-Salem's Luxuriant Sedans stuff a lot of horsepower under the hood, a five-stroke enginepropelling this roadmaster along at an insanely unsafe but mighty satisfyin' pace.
When the five strokers under the Sedans' hood, bassist Ed Bumgardner, harpist/vocalist Mike Wesolowski, drummer Bob Tarleton, and co-lead guitarists Gino Grandinetti and Rob Slater took their hi-octane vehicle out for a shakedown cruise last year, there arose such a clatter among fans of red hot rockin' blews that the roadster has been retrofitted for another run with Prince's NPG horns and an additional gas tank fueled with hi octane harp courtesy of Red Dirt Revelators' Willie Shane Johnson. They're calling their latest Double Parked, but with the original equipment all fired up and the extra goodies bolted on, this one won't stay curbside for long.
Harpist Mike "Wezo" Wesolowski is also the vocalist, laying a gravelly patina of Delbert twang over a gruff Springsteen crackle. The songs are covers, but not reproductions, unrecognizable from the obscure originals. Bassist Ed Bumgardner and Wezo performed rabbit-hole archaeology for the Sedans sophomore model, immersing themselves in YouTubery viewing following the If You Liked This.... formula backwards into obscure blues/rock treasures.
John Nemeth's "Love Me Tonight" is the least obscure, but with the remake here with two members of Prince's New Power Generation Horns, trombonist Joey Rayfield and Adrian Crutchfield on tenor sax, it's barely recognizable.
Rick Fowler's "Preacher" sounds like a blend of John Lee Hooker's "Endless Boogie" and Norman Greenbaum's "Spirit In the Sky." It too has been drastically reworked, but Wezo's gruff vocal drives the message home harder than Fowler's original. "It makes a good point for lot of folks when a friend dies or a loved one dies and a preacher gets up there and he's trying to save people's souls while they're just trying to say goodbye," Bumgardner says. " It's not a knock against religion, its a time and place sort of song. All that sort of thing comes with a price. We liked what it had to say." Former Outlaw guitarist Harvey Dalton Arnold's slide guitar sizzles over the top of the Sedans' ZZ Top reupholstery treatment.
The Stones' Ronnie Wood gets a nod and a do-over on "Knock Your Teeth Out" from '92's Slide On This. Ironically,Wood's version is watered down and tame compared to the Sedans' do-over, which sounds more like the Stones then Wood's does. "Fate's taken a twist, I've evened up the score/Blue blood on my fist, your teeth on the floor/I'm going to knock your teeth out, one by one," Wezo howls. "One of Ronnie's worst selling record of all times. Only one of his records that did not impress," Bumgardner says. "That's what Wezo brought to the table. He found it and liked it. Sort of sums out the current state of America." But those who purchase the physical CD may feel left out- the cut is only available as a bonus cut on the Sedans' digital release .
"Under the Gun" sounds like Delbert McClinton fronting Free, the Paul Rodgers fronted outfit that predates his stint with Bad Company. "I've loved Free more than any almost other band that's ever lived, the bassist says. "When I heard I heard the original, it sounds absolutely nothing like that song. But something in there told me we can make this song sound like Free."
Marc Ford (Black Crowes, Marc Ford & The Neptune Blues Club,The Magpie Salute) put out "Don't Get Me Killed" a sinister, swampy ode to dangerous lovin' on '08's Live In The Compound. Its a great song that nobody paid much attention to.
Ford's version is a blewsy plea to a killer lover he can't stay away from. But the Sedans version rocks harder, with Wezo's do-over having the protagonist knowing the danger but brushing off the consequences with a nod and a wink as he proceeds to get the goodies.
This Sedan rides hard, its stiff suspension bouncing it down the road, shakin', rattlin,' and rollin'. It may not be everybody's idea of luxury, but it's a ride that sure feels good.