Album Review
A Lyrical & Melodic EP With Vibrancy In A Homegrown Style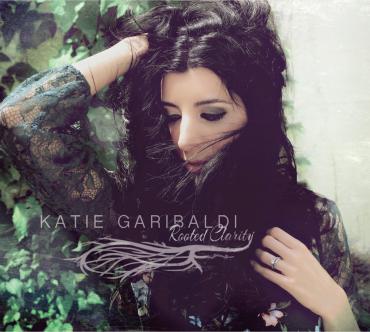 Sometimes, little short extended play CD's possess some of the most interesting music and original songs. San Francisco's Katie Garibaldi's (nice classic Italian name) five song collection – Rooted Clarity -- showcases pristine guitar sound and angelic, yet, absorbing vocals.
Maybe Katie's related to Giuseppe Garibaldi – an Italian general, politician and nationalist who played a large role in the history of Italy (as documented in the film The Leopard with Burt Lancaster). If she doesn't know, she should get a DNA test because that would be an incredible legacy. 
Nonetheless, musically – Katie is not Enya. This is more in the folk singer tradition of the late Mimi Farina (Joan Baez's late younger sister). Mimi possessed a more refined, sincere vocal than Joan. At times, in her folky best, Joan, in her earlier days, was a little shrill. Mimi along with her two singing partners – her late husband Richard Farina and later the late Tom Jans – always was a singer with near-perfect pitch and a very attractive vocal style. She should have become a major solo singer. But, it wasn't meant to be.
But today, today -- Katie sings with vibrancy, hitting high notes even Joni Mitchell would appreciate. Her words, music and performance on "Delightful" are just that – delightful. Backed by some purring violins and cello – with a straight ahead melodic drive Katie packs a wonderful folky extravagance. She almost makes folk music worth listening to again. 
Her voice soars at times and what is remarkable is that it doesn't sound like showboating or diva-ship. This woman doesn't have to prove a thing to anyone – she is a powerhouse driven by an intoxicating vocal tone.
It reaches heights that are so easy on the ear that it's a treat, a pleasure to listen to. The voice – free of bombastic notes – is just pure musicality. And Ms. Garibaldi does it with such ease – this is what warms the ears to her sound. 
A little more Americana is "I Am," and there seems to be a little vibrato / echo in her vocal. I don't care for this when I know the voice I am listening to is so pure. Katie doesn't need any effects or sound like she is singing in a hallway or bathroom. This song treads the same reaches of the obscure, yet well-respected Native American songstress Norma Tanega who at times, also sang with such conviction and beauty ("The Street That Rhymes with 6 AM," the often covered "No Stranger Am I" – Dusty Springfield -- and Norma's classic "Walkin' My Cat Named Dog"). This song -- "I Am," is an excellent track by Katie – but, lose the effect. The beauty of her voice needs to come through unobstructed, pure and unvarnished.
"In My Wildest Dreams," has wonderful lyrics and despite some similarities to Sarah McLachlan – Katie has this classical string section that is almost a signature sound for her. With all the power and somewhat filtered sound – Katie comes through with such a natural jubilant sound. I like her. She is not boring, she is not contrite, but – she does sound, so far to suggest, that she is just scratching the surface of her capabilities. There is more she has not revealed, she sounds like she is hesitating to get a little more gritty and raw. Her voice is warm and I wonder what she would sound like if she recorded in a studio environment of all tube-analog -- where the sound would be warmer and in a high fidelity range. I can just imagine how the luster would truly emerge.
"On My Own," -- another beautiful ballad possesses wondrous vocal range. With all that talent in her vocal chords she still sounds like she is just a down home singer on the back porch and has a great amount of homegrown style. "I'm gonna build this on my own…" is just a simple, but poignant lyric.
I'm already on the final track – "Bird in a Cage," and I already know it's not enough. Here, Katie has a more rock and roll heart under the surface. It borders a little on today's female vocalists' stylizations, but Katie avoids comparisons.
She also inserts the classic retro word "baby…" which I found delightful to hear in a song again. Her inflections, phrasing, tempo – all impeccable. Katie plays guitar, Kevin Blair plucks the electric and acoustic bass strings, Tim Fellow bangs on the drums & adds percussion, Arturo Garza strides along on keyboards, JP Shafer is the saw expert on fiddle and mandolin, Nathan Lowry saws as well on the violin and Emily Nelson bellows nice and deep on her thicker stringed cello. This song is a high water mark for everyone. Excellent performances throughout the economic collection (maybe a new full album is not too far behind). This effort was well-recorded and all the songs were written by Katie and she produced the collection with Kevin Blair.
This lady deserves a listen. Eventually, lots of success should follow. I've included a live, near operatic performance video ("Lock the Door, Lose the Key") -- because Ms. Garibaldi, and her band sound as good live as she does on record. She has a polished stage presence and…she doesn't really sound like anyone performing today. Katie has four albums released already and this is her first EP (extended play – old recording terminology) of just five songs. Hopefully, these are an introduction of songs that will find their way to a proper album so they don't get lost.
Katie follows her own muse and has a sophisticated manner about her music. If this was a CD to tease listeners ears -- she has succeeded. The next album should be similar in a Joni Mitchell tradition. Some kind of concept – travel, journeys, people, growing up, growing old, seeing new places, holding on to the past – whatever. Just something with a powerful message that listeners can grasp and understand on a personal level and relate to -- strung together in songs with tight memorable melodies and lyrics. Just as she has done here…on this small 5-track…collection of little classics. Some young people do get it. If nothing else, it's a collection Katie and her musicians can be proud of. 
Website: http://katiegaribaldi.com/news_item&NewsID=3765647626460
FaceBook: https://www.facebook.com/katiegaribaldi
SoundCloud: https://soundcloud.com/katiegaribaldi
Disclaimer: The opinions expressed in this review / commentary are those of the author and do not necessarily reflect the official position of No Depression. All photography is owned by the respective photographers and is their copyrighted image; credited where photographer's name was known & being used here solely as reference and will be removed on request. YouTube images are standard YouTube license.
John Apice / No Depression / October 2016