Album Review
Madam West - Warm Bodies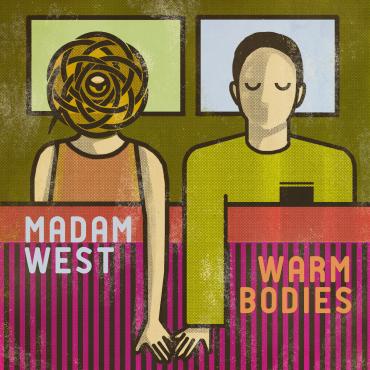 Madam West - Warm Bodies
The genre-hopping going on with Madam West's Warm Bodies is creative and a lot of fun to hear. The mood and subject matter of the band's six songs isn't particularly cheerful, but hearing a young band tapping into what they do best and reveling in the discovery makes for invigorating listening. Madam West has clearly laid down a gauntlet for themselves by producing such a fine, wide-ranging EP release, packed with more in its six songs than most full length albums can hope to muster, but there's nothing to indicate they won't be able to answer that challenge with future releases and live shows. This is a band with abundant creativity and imagination to burn but, best of all, the bravery to take on new sounds and shapes to their songwriting in service of furthering their work. Warm Bodies is one of the young year's most compelling releases and will only gain added luster with the passage of time.
As a follow up to the band's 2016 full length debut Madam West Loves You, Warm Bodies builds on the momentum generated from that release, expands on its creativity, and does so in a much shorter amount of time. The sound of Warm Bodies, from its opener "Strongest Son" through the closer "Wise Blood", is the sound of a band continually growing in confidence. The former tune is, arguably, the rockiest moment on Warm Bodies and definitely begins the EP on an emphatic, muscular note while late songs tend to opt for a more overall restrained approach. The dueling between the guitar and synthesizers on the title song comes across very differently than we hear in "Strongest Son", but the role they carry is just as prominent in its own way and they certainly generate memorable fireworks playing off one another. Lead singer Sophie Chernin's singing is much more atmospheric here than the opener, as well, thanks to some tastefully employed post production effects.
 A different, more experimental side of the band emerges on songs like "Erstwhile Manatee" and "Seams". There's some delightfully dark humor in the former song while "Seams" takes a much more overtly darker, more melancholy line than we hear on "Erstwhile Manatee". Guitar takes on a more compositional, orchestral role with the former tune than before, but the drumming keeps the same vital live sound that's a major ingredient in the success of the EP's songs. "L", the EP's second to last cut, is another of the collection's stronger tunes that explores a number of variations on its mood during the song's sub-three minutes thirty second duration. Chernin's singing is very effective here and strikes an assertive note while still practically quavering with emotion at intelligently chosen points. The final number, "Wise Blood", is one of the EP's most dynamically arranged songs and it's clear why the group chose this song to close the release. It solidifies the strides made on the band's two studio releases to date while clearly pointing the way towards their future in an extended form. Madam West's Warm Bodies elevates the group to a higher status than ever before.
BANDCAMP: https://madamwest.bandcamp.com/
Mindy McCall