Album Review
The Mallett Brothers Band Take a Gamble with "Losin' Horses" + Listen Here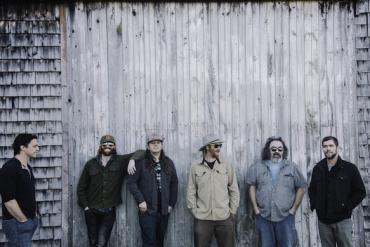 Founded in 2009, The Mallett Brothers Band have had multiple lineup changes and stylistic shifts over the years, but they've remained steadfast in delivering heartfelt songs with emotional lyricism, vivid imagery, and dynamic musical tones, all of which are evident on their upcoming release, Vive L'Acadie!
Due June 15th, Vive L'Acadie!, the follow-up to 2017's concept album, The Falling of the Pine, is a ten-song set inspired by their Maine homeland and grounded in roots rock with touches of blues, southern rock, and folk. Traversing vast emotional territory, the tunes on Vive L'Acadie! include deeply moving ("Timberline (High Times)), the celebratory ("Vive L'Acadie"), and the spirited "Losin' Horses." Penned by Will Mallett, the infectious "Losin' Horses" is a twangy shuffler, set apart by pedal steel, mandolin and a touch of reverb, whose warm melody juxtaposes the story of a down on his luck gambler dealing with his wagers and losses.
"You keep betting on those losing horses/Getting drawn by all those mystic needs/Getting torn by the confusing forces/Yeah, you keep betting on the losing steed."
Will Mallett relays the story behind the tune, "This is just one of those classic story songs, a portrait of a gambler down on his luck. The chorus came first in the writing process, and I sat on it for months thinking the verses needed to build out a metaphor, but in the end, I realized it should just stick with the horse racing theme and kept it sort of thematically streamlined. It's a typical "sad song that sounds happy." 
There's a big-time Big Duane Eddy influence in the sound, and lyrically it comes from a lot of places, but I think I had some combination of Woody Guthrie and Van Morrison in mind when it was coming together. For the hard-living hero, I had an image of someone from a Woody Guthrie song or a Steinbeck novel, but the vague mysticism in the chorus was definitely influenced by Van Morrison... I distinctly recall questioning some of the word choices and then thinking "what would Van Morrison do?" and leaving it as it was.
Nothing crazy with the writing or recording processes on this one, but I will say, this one is a lot of fun to play live and was especially so during our recent tour with Jon Fishman on the second drum kit. A couple shows into the tour Jon started doing this very cool gallop pattern during the instrumental section that Chuck then started playing around with, and it got me to kick my acoustic into high gear a little bit, and we ended up stretching it out and having some good fun... off to the races, ya know?" 
The Mallett Brothers Band are Luke Mallett (vocals/guitar), Will Mallett (vocals/guitar), Nick Leen (bass), Wally Wenzel (dobro/electric guitar/vocals), Chuck Gange (drums) and Andrew Martell (fiddle/guitar/mandolin).
Vive L'Acadie is due June 15th.