Album Review
Marcia Ball Blends Musical Spirits of Texas and Louisiana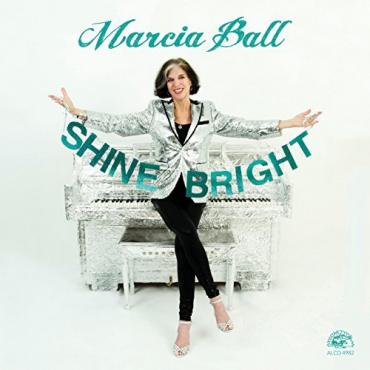 Marcia Ball has always been a line-straddler. Born in Texas, raised in Louisiana, Ball has crossed over so many times in her 50 year musical career that those state lines are a musical blur, a smudged border between Texas twang and Louisiana second line. The title cut was recorded in Austin, but has a jangly New Orleans second line strut. "When you feel the spirit, step into the light," Ball instructs her followers, name-checking
Martin Luther King as well as Irma Thomas as prime examples of bright shiners.
Ball assembled a stellar cast for this effort, recorded at two Austin studios and Dockside Studios in Maurice, Louisiana. In addition to her touring band — bassist Don Bennett, drummer Corey Keller, guitarist Mike Schermer, and Eric Bernhardt on tenor sax — Ball has Los Lobos' Steve Berlin on bari as well as producing the project, with Cajun accordinist/guitarist Roddie Romero and Hub City Allstars bandmate Eric Adcock on B-3 guesting on some cuts. Fiery singer/guitarist Carolyn Wonderland is brought in to add her Bonnie Bramlett-style vocals to the mix as well.
"I Got To Find Somebody" is vintage Ball, Fess' carnival rhythms driving the party, Berlin and Bernhardt's dueling bari and tenor honking like a '50s Huey Piano Smith and the Clowns session.
Ball blurs the geographical lines even farther on "Life Of the Party," stop-and-go salsa  that crosses yet another line, into Mexico.
She serves up some modern swamp pop with "What Would I Do Without You" and visits New Orleans at carnival time for a rowdy street parade on "When The Mardi Gras Is Over," vowing she'll be staying till the last float rolls.
"Once In A Lifetime Thing" sounds like something Bonnie Raitt might have cut, bouncy old-school R&B with some horny emphasis from Berlin and Bernhardt.
"World Full Of Love" recalls Ball's earlier work with Irma Thomas and Tracy Nelson on '98's Sing It, but with Kimmie Rhodes and Jolie Godnight sitting in this time for some righteous gospel harmony.
"Too Much For Me" is the reason fans have come out to see Ball for five decades, rowdy piano-pounding rock with a Big Easy accent.
Ball teams up on vocals with Yvette Landry (Pine Leaf Boys, Balfa Toujours, Red Stick Ramblers, Steve Riley) for a Cajun travelogue with "Take a Little Louisiana," urging participants to take a little Louisiana with you everywhere you go, Romero's accordion whipping up dance floor occupants into a foot-flingin' frenzy.
Ball structured all the songs here like artists used to do back in the 45 rpm days, each cut coming in around 3 minutes. It works really well, giving you just enough of a taste to want to go see her sweaty live shows where she cranks this stuff out all night long.
Back in '01, when her Alligator debut, Presumed Innocent, came out, Ball said she found it difficult to sing in the studio: "It's finished, it's static, it's locked in. You just start changing your mind the week it comes out and you get the rest of your life to second guess it, what you might have done differently, and how you might have wanted it to sound, and end up worrying about it the rest of your life." She should have no worries this time out. Shine Bright is crafted to do just that for the forseeable future.