Album Review
Margo Price Has Something To Say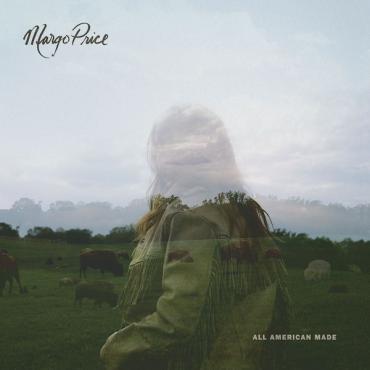 Margo Price has written a protest album, and it's damn good. And no matter what anyone says, All American Made is probably the most American record you'll hear all year. Coming off the success of her last release, the excellent Midwest Farmer's Daughter, Price is using her voice for something bigger than herself. Even the album cover, which features a ghost-like image of her over a scene of greenery and cattle, seems to suggest that she's a mystical messenger, here to deliver a message for the greater good. Where she could have just as easily posed for a glamour shot, Price has plenty to say and her words are more important. She's as much a part of the landscape that made her as the trees that grow from it.                 
On Midwest Farmer's Daughter, Price proved she can belt, channeling some of the country greats (Loretta, Tammy, Dolly, etc.) with her strong and sweet voice. And on All American Made, she can still nail a done-me-wrong kiss-off like no other. She shows it on songs like "Don't Say It" and "Weakness."
But make no mistake, the focus of this record is on Price's profound songwriting and her own take on the American experience. There are real details embedded in these songs: American idols (like Levon Helm, Tom Petty, and even Willie Nelson, who makes a duet appearance on "Learning to Lose") and odes to her own working class background and the people who made her who she is. From her "sweet mother [who] gets up so early in the morning" to make coffee, to her "daddy [who] fills his tractor up with diesel to plant the corn," and her uncle who "died on a motorcycle in the rain," Price weaves us into the fabric of her world and we're lucky to be invited.
The real standout moments on All American Made come in the form of f***-this-sh** songs that stick it to the man. Most memorable may be the album's stellar title track, which has Price recalling "Reagan … selling weapons to the leaders of Iran" and being "raised on sports and Jesus and all the usual suspects." She wonders "if the president gets much sleep at night" and (eerily) looks to Petty for answers amidst all the madness. The song opens with real news soundbites, as Price describes the reeling emotional state in which she woke up after Election Day.
On "Pay Gap," Price doesn't beat around the bush. "Don't give me that feminism crap," she sings alongside moseying country-western guitars as she questions the status quo. Price is not afraid to come for the "rich white men" she cites in her lyrics, and it's a damn pleasure to hear her do so.
The injustices that come with being a woman are a common thread on All American Made. "Wild Women" comments on how double standards affect her life as a touring musician. She sings, "It's hard to be a mother, a singer, and a wife/But all the men they run around and no one bats an eye." Price is sick and tired of having to work just as hard for less respect and money than her male counterparts.
It's gratifying to hear a country artist use her platform to speak out, even if her opinions may be unpopular in the traditional mainstream country music universe. And Price cuts through the BS with flawless performances of dynamite songs.