Album Review
Marie Knight's Gospel Truth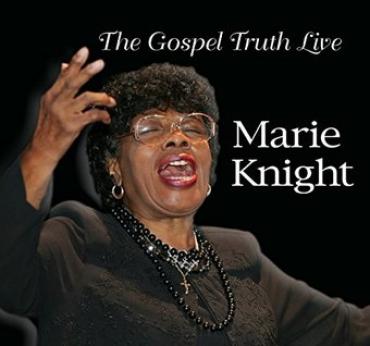 She was a heavyweight contender, holding her own while slugging it out night after night with Sister Rosetta Tharpe. Marie Knight swung from her toes, lashing out with gut-punching vocals that made Tharpe yelp with gospel fervor. The two toured together in the late '40s, scoring big hits with "Up Above My Head" and "Gospel Train." Although they were equally gifted vocalists, Tharpe's guitar skills gave her the edge, that combination getting her voted into the Rock and Roll Hall Of Fame this year.
But Knight is making a comeback as well. This latest live release, from a 2007 concert at the Church Street Center in North Adams, Massachusetts, shows Knight in top form, belting out gospel standards she performed with Tharpe as well as a large selection of Reverend Gary Davis' material.
Knight had the spotlight all to herself for this one, accompanied by Dave Keyes on piano and organ. Knight's cover of "Didn't It Rain" is a bit smoother than Tharpe's Koko Taylor-style, big-bellied roar she often used in her '60s performances. But smooth doesn't mean timid. Knight is a belter who can punch like Mahalia Jackson, and she bobs and weaves, swooping and soaring before dropping back flat footed to deliver a knockout gospel blow.
Knight sprinkles in a bit of preaching between songs, dispensing practical advice for lazy sinners. "Some of us are taking our time about getting ready," she says, introducing Reverend Davis' "12 Gates to the City." "But you don't have any time, 'cause when you lay down, you don't know whether you gonna wake up or not."
But her rendition of "Up Above My Head" gives everybody a wakeup call, Knight stretching on the tune that has become a Tharpe trademark from the YouTube clip of her from the '60s performing on Gospel Time with the Olivet Institutional Baptist Church Choir, grinding out a rockabilly solo on her white Gibson Les Paul Custom. Knight keeps her version firmly anchored in church, despite Keyes' almost succesful roadhouse piano breakout at one point, but Knight's fervent basso proclamation that she firmly believes there's a God somewhere keeps it churchy till the end.
Knight's renditions are full-bodied, but not show-offy, just sticking to basic heart-punching gospel, pounding away at the body on "I'll Fly Away" till the head pays attention and gets the message.
"How I Love Jesus" is spectactular, but simple: no histrionics, just heartfelt praise delivered softly at first, building to a stained-glass-window-rattling crescendo that brings down the house.
Knight gets soulful on "Closer Walk With Thee," Keyes supporting her with a ragtime strut, Knight hollering like a scalded sinner in the red-hot presence of the Lord.
Knight recorded one more record in '07, Let Us Get Together, A Tribute To Rev. Gary Davis, for M.C. Records as well. She passed away two years after this show, and her work has been overshadowed by Tharpe's. She deserves a revival, and this service should suffice to get her back on the pulpit, her spirit and her sound still spreading the gospel truth.