Album Review
Marie/Lepanto's "Tenkiller"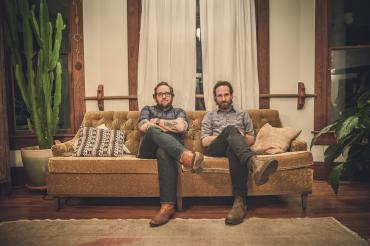 Both Will Johnson and Justin Peter Kinkel-Schuster released excellent solo records last year. Both were moody, dark, and pretty, and both showcased each artist's Southern noir songwriting through sparse, acoustic arrangements. So it only makes sense that their combined powers would yield something ghostly beautiful and deep that highlights their rich musical pasts – Johnson of Centro-Matic and Kinkel-Schuster of Water Liars – and more solitary musical present. After a co-headlining tour, the two have paired up as Marie/Lepanto, named for a sign just between their hometowns on I-55 in Arkansas, and released Tenkiller, their "supergroup" debut. And it is all you could hope for in a collaboration between them, with Johnson's smokiness and Kinkel-Schuster's sweetness.
The two create a kind of desolate sounding folk rock, scenic and brooding. Taking turns at the helm of each song, we get a taste for both of their individual sounds. Johnson's lead vocals on the haunting "Patient, Patient Man" are low and cavernous, while Kinkel-Schuster's are elevated and angelic on pop-folk beauty "High Desert." The two rock out and harmonize on "Iverness," their guitars loud and synched. And while some songs sound so distinctly of Johnson or Kinkel-Schuster, the album is consistent and cohesive, showing just how aligned their sensibilities are.
"Clean Gift" feels, at first, like a Kinkel-Schuster tune, but a surprising guitar interlude gives it an unexpected detour. Johnson leads "Famished Raven" and it flourishes slowly and beautifully. Johnson and Kinkel-Schuster excel at the art of the slow burn, and the songs on Tenkiller reflect that. "Simple Scenes" is a standout for its gorgeous melody and the album's title track sneaks up on you with its delicate acoustic guitars and wispy, soft vocals.
It's not hard to imagine any of the songs on Tenkiller popping up on a solo release from either artist, but the way they complement each other adds depth to the songs they've made together. There are endless bewitching layers to peel back in these songs.