Album Review
Mark Huff's Outstanding Follow-up to 'Down River'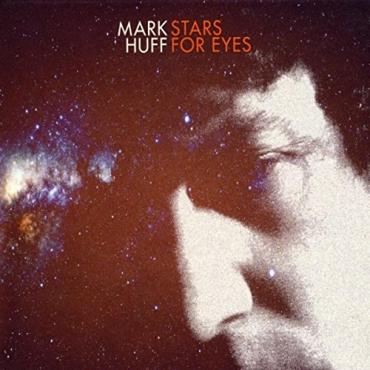 Mark Huff first caught my attention during AmericanaFest in 2016, his memorable and clever melodies making an instant impact. I sought out Huff's Down River EP, and was so impressed that I included it in my top albums of the year. I've since devoured his back catalogue, and have been patiently awaiting his latest full-length album, Stars for Eyes. And it doesn't disappoint. 
Like Down River, this is an outstandingly good and complex album.  At one level it washes over you in gentle hypnotic waves. At another level it challenges you with its many contradictions that force you to listen more deeply. Beneath the feel-good factor vocals and up-tempo beat, Huff's lyrics are sombre and dark. The comforting, calming sounds of 'I Know You Don't Want My Love', enhanced by Russ Pahl's beautiful pedal steel tones, provide camouflage for a dark tale of cold-hearted rejection. Huff truly is a master storyteller. His lyrics create atmosphere, recounting tales of true life, in all its shades of grey. 'Nightingale' and 'Heart Beating Without You' might be upbeat, foot-tapping, singalong tracks, but don't be fooled as there is no happy ending in the lyrics.
Stars for Eyes demands repeated listening to appreciate the album's complexity. The title track's strong melody and recurring lyrics are layered with angelic harmonies and atmospheric pedal steel and electric guitar, providing depth and evoking a cosmic atmosphere. Huff's sound is unique and refreshing, but also feels familiar and comforting, the warmth of the sun after a long winter.
Huff has gathered a host of accomplished players for Stars for Eyes. Julie Christensen, long time vocalist for the late Leonard Cohen, provides the same backing vocals for Huff on his beautiful cover version of 'Almost Like the Blues', which closes the album. Compelled to listen to the two versions back-to-back, there are striking parallels but Huff brings his own interpretation, with his softer vocals and layers of instruments producing a warmer, jazzier version, despite the gritty lyrics. I love Huff's version of this classic, and I expect Cohen would have approved.
Stars for Eyes was recorded and produced in Nashville by Grammy winner Chad Brown, with a hand-picked cast of stellar musicians bringing vast experience of Americana-country music (Ryan Adams, Gretchen Peters, Margo Price, Allison Moorer, John Hiatt, Tom Russell and many more). But this isn't a typical Nashville sound. Huff's Americana is uniquely tinged with pop, gospel and even some cosmic Pink Floyd. I have only seen Huff's excellent solo accoustic performances, but I can imagine that a full band performance would be exceptional.
If you haven't yet heard Mark Huff, you're in for a real treat.