Album Review
Marti Jones - You're Not the Bossa Me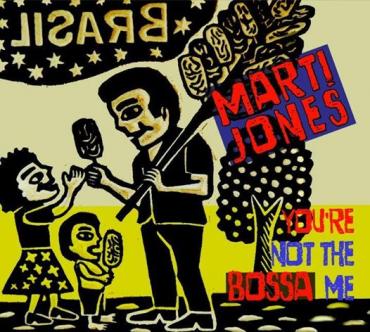 When I first met Marti Jones, several years ago, I had the temerity to tell her that I came know her husband Don Dixon through her, not the other way around. And, like the unabashed fan that I was, I brought my favorite LP for her to autograph.
I have listened and followed her music since her first solo album, 1985's Unsophisticated Time for A&M. That was during a time when that major label and a couple of others, most notably Warner Brothers, believed in quality music and the artists who made it. Their A&R people had the philosophy of permitting their label's major acts roll in the dough and run interference for those artists who might take a bit longer to catch on. Sometimes they did, like Bonnie Raitt who recorded nine albums over 15 years before hitting the big time with Nick of Time. Other times, despite how good htey are they reach a smaller, if loyal, audience.
Marti Jones belongs to select grouping of other artists, such as Sam Phillips, Robin Holcomb, Laura Cantrell, Aimee Mann, and her own best friend Kelley Ryan, who continue to make what I like to call intelligent popular music for adults -- this being a take-off on Nick Lowe's "Pure Pop for Now People." Unfortunately, it seems even though their music keeps getting more interesting and affecting, attention and sales continues to elude them. Even NPR will not play them.
But, back to Ms. Jones, who recently released her eighth solo album, You're Not the Bossa Me. As its title implies, it is a bossa nova-flavored record. It's not an attempt, like, say, Karrin Allyson's excellent Imagina, to more fully embrace the genre. Instead, Jones incorporates some of its rhythms and sensibilities into her own unique musical themes.
That is nowhere more obvious than the opening track, "Walking to Brazil," written by Ms. Ryan, who produced the album with Dixon, that eases you into the desire to slip into something cool while watching ocean waters rippling towards not so obscure desires, stopping when "the stars are upside down." Like the bossa that inspires it, it is a seduction. Admit it: can anyone ever really forget the first time you heard "The Girl from Ipanema?" No matter what your reference point was, it, like the foreign movie that it was, changed the way you looked at things. If you were paying attention, that is. It had to. It was like the first time you heard Coltrane, electric Dylan or any period Lucinda.
That sways you into the album's second track, "Lovely as the Day Is Long," and you feel as though you are on that beach, with a lime martini, with a Herb Alpert-like muted horn hovering nearby. While not an original, it serves as her own Ipanema. 
Then things get playful with her cover of Amy Rigby's "Keep It to Yourself." Ms. Rigsby's version is an acidic, somewhat desperate and a bit menacing tongue in cheek take on taking out an ex-boyfriend. Jones' version is more like a daydream she's having while sipping that martini, on that perfect beach, free floating with, again, a muted horn as a counterpoint. By its end it becomes a haunted heart as opposed to not so playfull retaliation.
During a recent conversation, Ms. Jones and I compared notes on South American music, her earliest influences being Sergio Mendes (who just happened to have been on her original label years before), and some current favorites, including Bebel Gilberto (yes, Joao's daughter) whose new album Tudo makes a nice companion to Bossa Me.
The album has a self-contained, comfortable feeling about it. Not only is it produced by her husband and best friend, Jones/Dixon/Ryan wrote nearly all the songs and are on all twelve of them. The others are friends, especially Rigby, with whom Jones toured some ten years ago as the Cynical Girls. 
Not that all the songs are soft, luxurious strolls on tropical shores, things get reflective and shadowy in "The Ghost on Every Corner," "A Man from the Past,"' and my favorite song title in a long while, "How I Became an Existentialist." Jones' vocals gorgeously balance out Dixon's undercurrent of anxiety. 
Speaking of Don Dixon, his production and mixing on this album, as well as many others such as REM, enables the music, delicate at times, to lift itself off the record and become more than recorded sound, it seems to have a life of its own, full flavored, so to speak. It is something that is all too rare these days, a record that sparkles. His sound writing and bass playing are not too shabby either.
Marti Jones will bring along Don Dixon and Kelley Ryan when she plays Mountain Stage on November 23. While I got to hear the songs and this trio, along with percussionist Jim Brock, at the album relase party/perfomance in their hometown of Canton, Ohio when the album was first released, now that the songs have become ceded within me from repeated listenings I look forward even more to hear them again. There is always something new and exciting that happens with these folks.