Album Review
Melanie Brulée Logs the Things We Leave Behind in "Pretty Wasteland"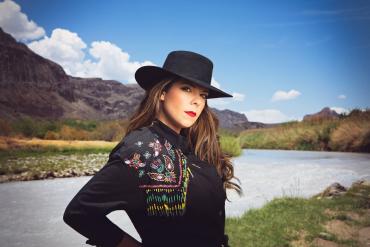 Melanie Brulée's new album, Fires, Floods & Things We Leave Behind, explores the wide open spaces of the Wild West -- and she's got the voice to fill it. Brulée splits her time between Nashville and Toronto, though she's drawn inspiration from her travels around the 50 states. On this premiere, Brulée sets the stage with her boot-stomping "Pretty Wasteland." It's a song that's meant to accompany you down the highway or at the bar with a shotglass in your hand (and a designated driver at your side!) However, when you tune into the lyrics, you'll see that the song is deeper than your typical banger:
"I got back from this road trip where 6 of us followed Route 66 from Nashville to Vegas, my brain buzzing full of lyrics and song ideas. I had been in a 3-month writer's block so it was refreshing to realize I hadn't lost my ability to write. I found myself particularly fascinated by the ghost towns in Texas and the idea that we can really just walk away from things that don't serve us anymore," Brulée writes. "My friend Cindy Doire came up with the line 'Pretty Wasteland' and I built the song around that. Just when I was stuck on the 2nd verse, I got a call from a dear friend who had been struggling with addiction, and I answered hoping it wasn't another distress call. The opposite was true; he was calling to tell me he was 3 weeks sober. So many of friends in the music industry have recently chosen sobriety and I'm incredibly proud of them because lord knows it isn't easy to look inside yourself and let go of a crutch. Pretty Wasteland and the rest of the album is dedicated to people suffering with addictions and their loved ones."
Fires, Floods & Things We Leave Behind is out October 19th