Album Review
Mental Health Comes Into the Light With Music From This Folk Collection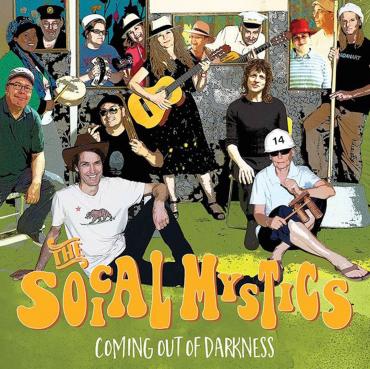 I found this effort special to listen to and because of its optimistic and inspiring approach – something quite different from the regular batch of creativeness I often receive. I also took an interest because in my spare time I have worked for years with special needs students. Here, this Canadian band, comprised of seasoned musicians, writers and singers explore and break the stereotypical ideas about mental health issues.
The project – Creative Works Studio (CWS) -- led by folk singer Isabel Fryszberg is an arts based occupational therapy program under the umbrella of St. Michael's Hospital in partnership with the Good Shepard Non-Profit Homes, Inc. The CD is their debut as The Social Mystics – "Coming Out of the Darkness." With assistance from volunteer co-facilitator and former English teacher, Laraine McMahon-Nelson, they have pieced together an ensemble that uses music as therapy and it's applied to various mental health issues. The album is not lame in any manner – because of the quality of musicians involved in the music and performances. All -- enthusiastic, energetic and decorated with clever lyrics and singing. At times it displays the exhilaration of Peter, Paul & Mary harmonies with folk overtones. Other times it has an ensemble mix similar to the New Christy Minstrels. But, it's more of The New Seekers that drizzles down out of the speakers: Especially when The New Seekers sang songs like their hit "I Want to Teach the World to Sing (In Perfect Harmony)." Yes, that's the best comparison I can make in support of The Social Mystics.
I will admit, some people may not be compelled to listen consistently to these songs because in some spots it does have a very 1960's harmony inflected approach. But trust me, these songs have a weightless quality to them and they will uplift anyone who is having a bad day or just have the blues. The album is not written and performed with a silly angle, or comedy. It's not really even a children's type of music (though children will appreciate these songs). It's serious stuff and the subject matter is being sung and played about heavy topics -- framed deliciously in salubrious melodies.  
The first track is "Coming Out of the Darkness." (Not to be confused with the 1968 hit "Reach Out of the Darkness," by Friend and Lover). The majority of the lyrics on this album were written by the Creative Works Studio and the music is instinctively Isabel. There are no fewer than fifteen members of this ensemble and I will list them individually below. Some songs may, at first, come off as religiously driven, but that's not the point of the album. There are really no religious, spiritual or deity references. The reason there is a little of that suggested is because the songs are written upbeat, optimistic, with faith and belief in yourself and I guess that kind of message can erroneously be translated – even diluted – into patronizing. But it isn't. The songs are just great examples of thinking positively, in an environment of trust, empathizing with others and taking a deeply personal and collective musical journey – as detailed in the CD's booklet.
And so, the first song is sung as an ensemble -- choir fashion. The title alone suggests what they talking about. Mental illness is not something I am entirely familiar with, but I have interacted with people who have suffered from anxiety and they have described this at times as a very "dark" place. Anxiety, is a form of depression. This song explores that effort of "coming out" of that darkness and dealing with it, being involved with something that can possibly distract the mind from going down paths that are dark. It's not easy, but writing, playing music, painting, sculpting – all beneficial. Some of the greatest artists wrestled with these demons and managed as best as they could through their art. The late English singer-songwriter Nick Drake, former Pink Floyd founder Syd Barrett, authors Ernest Hemingway, Edgar Allan Poe and Virginia Wolf. Artists such as Van Gogh and the actor-comedian Robin Williams, as well as his hero, Jonathan Winters. These issues are far wider spread throughout the world than many believe. Some people – despite their issues – are not insane. Their issues can be controlled and they must be made aware that they can function and can contribute in some meaningful way.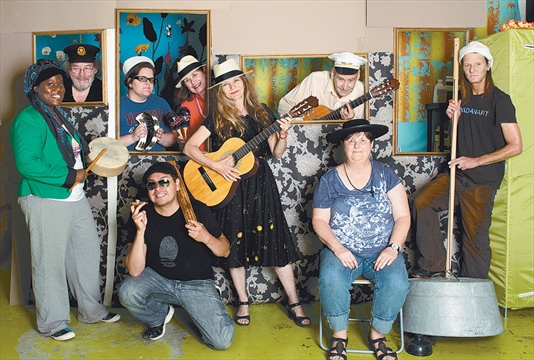 "If I Could Build a New World," – explores how certain things that happen in this world are questioned by others. The upbeat lyrics just exemplify that if you could build a new world – everything would be perfect, and as it should be. This world doesn't need to be constantly about stress, anger, challenges, competition, frustration. It should be about dancing to The Beatles, eating ice cream. Many staunch people would say "well, that's not the real world." And why not? Is my question. Not everything in this world needs to be on deadline, needs to be followed by rules and regulations. Go fly a kite, run and smile while you're doing it. Let the breeze blow through your hair and enjoy a fishing trip like Randall McMurphy did for all the "inmates" in "One Flew Over the Cuckoo's Nest." There was nothing wrong with those men on that day.
But for some...when the darkness comes it's persistent. 
The third track is more somber: female vocals are crisp and matter-of-fact with a bluesy bent. "I Don't Want Summer to End." You don't have to be a child to wish for that. This has an old-world flavor and it's the best track so far. The singing is powerful; the melody infectious. "I like warm rain, trickling down my cheeks, I like the beat of the music in the streets, I like to feel the tapping of my feet…." These are all wishes any human could have, any age, any culture. It's one of those songs that if someone starts singing it, it's easy for a crowd of people to simply, eventually, start singing along. If that should happen, the song succeeds.
"Hold On to the Good," – may just become a song that schools could teach their students, choir and sing at assemblies. It has a message that is positive and would definitely attract an audience to sing along, clap and enjoy. More male vocals dominate "Every Shade of Blue," – it details all the things that can make a person sad, concerned, and blue. They even mention Dylan, Picasso, Van Gogh and Elvis in the clever lyrics. The fact is, many famous artists suffered from depression.
A nice rollicking track "I Wanna Be Eccentric," is percussive, sung with attitude and Asher Ettinger's piano pounds the notes out in an invigorating manner.  This track is arranged well right down to the last line: "I wanna be eccentric…and howl at the moon."
"Summer Rain," has a warm approach and Elvis is mentioned again cleverly through his song title "Kentucky Rain."  The song trudges along, but it still has a wonderfully upbeat tone. The vocals are effective and sung with fun. "Gonna Take the Storm Windows Down," follows with dozens of beautifully positive images. Despite the positive message the lyrics maintain a safe distance from lame. They are carefully crafted and are actually deeply affecting. The methods they choose to address mental issues and then cleverly disguise is fascinating and exemplary.
Dima Saab wrote the music for "Chill in the Air," again, very positive images, uplifting music and also with a little Irish – folk song posture. "Crazy Moon," was written by both Isabel and Dima Saab. This song has rich harmonies reminicent of The Roches -- an eccentric, but excellent folk group made up of three sisters. This song is my second favorite on the album. At times the female vocals also border on the great McGarrigle Sisters in their word pronunciation and arrangement of the tune. That's quite a comparison in one song: The Roche Sisters and The McGarrigles. Well, I guess The Social Mystics must be doing something right.
"Hot, Hot Day," – continues with a Roche Sisters attitude. It's in how the song is sung -- sprinkle of sarcasm, naughty saucy personality, mannerisms, and the sharp teeth of the song – all marvelous. The overlapping harmonies, different tones, the call and response – quite good and a fun listen…. on a hot day (which it is today as I write this).
It's sad when you think about how much good music is created and recorded, released – goes ignored by mass media and radio. It's all about conforming to a formula and not about how something could possibly help or inspire someone. Sometimes it has to be disguised. 
"I'm the D.S.M." sounds like a Tom Robinson (Band) song from back in the 70's. Especially in the vocal mannerisms and how different voices shout out toward the end all the drugs they could be prescribed. Of course, back in the 70's Robinson was a gay advocate and his songs (same as these) were written specifically for what he believed was another important social issue.  The voice is what sells the lyric and song – Robinson in his "Glad to Be Gay," anthems: "Power and the Glory," "Don't Take No for An Answer," "Duncannon," & "Roaring Days," were all excellent songs written and sung by a true professional -- no posturing – just messages. The music for "I'm the D.S.M" was written by Isabel along with Jodi Pape, and Don Kerr. This too, is something The Roches would have added to one of their earlier albums because they were a little radical for their time. The song has that glazed-eye look, barbed-wire multi-vocal identity. I happen to like this for a final song on an album – it has grit, maintains what we are talking about. FYI: DSM = Diagnostic and Statistical Manual of Mental Disorders – a handbook used by health care professionals as the guide to the diagnosis of mental disorders. How nice.
Overall, I found this album enjoyable -- though at first I had my reservations. It's a difficult subject to be optimistic or upbeat about. The human mind is quite the labyrinth. It is -- however -- easy to tell that those involved had a good time creating it. I think their efforts were excellent. All the performances were spirited, at times even with humor, and then at times with a sensibility that was refined and appealing.
The Band: John Reid (Lead Guitar, Vocals); Rick Franken (Washtub, bass and vocals); Suzanne Gorenflo (Vocals & Harmonies); Courtney Marshall, Linda Monteith, Malkah Engle, Susan Rose (Vocals); and Jane Musoke Nteyafas (Drums, Percussion, Vocals, Harmonies). In addition: Isabel Fryszberg (Rhythm Guitar, vocals, music); Don Kerr (Drums, percussion and vocals); Asher Ettinger (Piano); Alastair Whitehead (Bass); Rebecca Campbell (Vocal conducting & Harmonies); Laraine McMahon-Nelson (Vocals and harmonies, ex-English Teacher) and Jodi Pape (Ukulele, vocals & harmonies).
The album was produced, engineered and mixed by Don Kerr. The CD package is a four panel diecut color package with lyric booklet -- designed by Sarah Vincett, digital artwork by Suzanne Gorenflo with art direction by Isabel.
Bandcamp: https://socialmystics.bandcamp.com/releases
Website: http://creativeworks-studio.ca/site/socialmystics/
Facebook: https://www.facebook.com/creativeworksstudioTO
Media: https://nowtoronto.com/music/features/coming-out-of-darkness-social-mystics-cd-release-art-therapy/
Isabel Fryszberg Website: http://www.isabelfryszberg.com/
Disclaimer: The opinions expressed in this review / commentary are those of the author and do not necessarily reflect the official position of No Depression. All photography is owned by the respective photographers and is their copyrighted image; credited where photographer's name was known & being used here solely as reference and will be removed on request. YouTube images are standard YouTube license.
John Apice / No Depression / August 2016