Album Review
Michigan Band Flexes Its Musical Muscle With Americana-Garage Country-Rock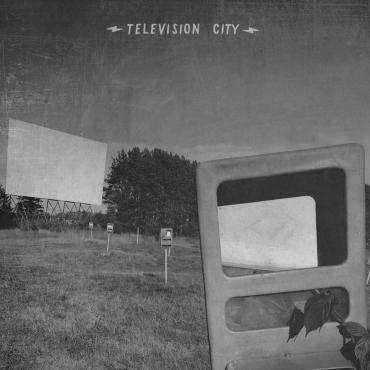 At first, listen I didn't think this band would qualify for a No Depression review. The publication is more geared toward Americana, folk, traditional rock, country, blues and a little jazz. This band doesn't even look like it performs this type of music.
But, Television City opens with an infectious track that's reminiscent of the old 70's band X with John Doe, and Exene Cervenka. The version of that band that leaned more toward Americana than grunge and punk -- when they got assistance from Dave Alvin ("4th of July").
At first, I thought just the first track will be acceptable the rest will be thrash and it will go full steampunk or something. But, it didn't. The band maintained a steady stream of tight wonderfully written melodic Americana-Garage Rock? Is that even a category?
So, I rested back and allowed Television City (the original term referred to studios owned by CBS-TV) to take me somewhere. And they did – with clever lyrics and muscular arrangements.
There have been bands that have done this before – Australia's The Black Sorrows, the Austin, Texas band The Reivers, Detroit, Michigan's excellent Rhythm Corps, Los Angeles' X, Boston's Rubber Rodeo, England's Jack Rubies, and several others. But, here, Television City hits the majority of their balls out of the park -- consistently. Their songs are good and I got rather comfortable quickly. 
The first track "Brenda Lived by the Lake," is the tune that has that strong X strength courtesy of vocalist/bass guitarist Kristin VonBernthal. She possesses that Exene authority and ammunition in her vocal just like X had on some of their finest songs. (Samples of the TC are on the band's website). Kristin's voice is not upfront and in your face -- she accentuates the song well alongside lead singer/mediocre guitars (their words not mine) /keyboards Brian Raleigh –who is easily in the John Doe / Dave Alvin arena. This is a great song and they are not imitating X. They are just similar in spirit. Track two then starts and it too -- slides easily through the speakers and continues in the tradition set down by the first song.
The lyrics are clever and mature. While the words are simplistic they are not heavily cliched like most songs of this genre. "Mudface Down," is about giving "rock and roll one more shot…" and it's charming.  While members of the band are not terribly old they do have their fingers on the pulse of nostalgia. There are many middle-aged and older men and women out there who once played in a band who are at that age now where they're thinking -- maybe, just maybe – I could do it one more time. It's all about self-satisfaction and not necessarily becoming the next Rolling Stones anymore. 
The song has such an energetic manner and then after the musical onslaught, it ends with poignant piano notes – reflective? Optimistic? You decide.
The opening chords of some clean lead guitar introduce "My Stuff Is Here," and this one features some steady but dynamic drums by Jim Faulkner. This song is performed in the spirit of The Dictators by way of The Del Lords, The Del Fuegos, and the solo work of Dave Alvin and John Doe. This is bar band certified. Simple, driving and typical of anyone who simply loves to get down and rock. There's an extremely good Garret Bielaniec lead guitar on this track and it's inspired too. Very likable. And then, with the addition again of Ms. Kristin's vocal the song is enlivened.
To avoid sameness, Television City adds a touch of synths and the Brian Raleigh vocals skim the edge of Austalia's Midnight Oil territory and very well too. Sounding a little like Peter Garrett, Brian sings with more balls on "This Ache," and drummer Faulkner bashes with assurance. This is probably the catchiest of all the songs so far. This has durability and lots of bravado. The electronics are not used so heavily that they would fall into that Depeche Mode / Erasure category. It's used just as a mild effect liberally.
Wisely, the next track is an acoustic ballad arranged heavy and bright. "Engadine," has snaking Garret Bielaniec guitars and David Feeney offers a nice pedal steel to render the song, once again, different from the others. The band has a nice way of showing their diversity. While the band is from Michigan, I can't help but hear the "sound" that has made many bands similar to Television City – that came out of Australia. Even Brian's vocal has an element of The Black Sorrows (who have been around for more than 20-years). Sample their classics "Harley and Rose," "Chained to the Wheel" and "Angel Street." These bands are blood relatives and don't know it. And they are both great to listen to back to back. The Black Sorrows' lead vocalist Jimmy Camilleri is similar to Brian and that's a compliment because Camilleri is masterful and highly regarded Down Under. Maybe the same can happen for Brian here. 
"Month of Sundays," features Kristin a little more (I love the way she accentuates Brian's lead vocals with her own). This tune as well is transformative. With its aggressive singing and ignited fuse lead guitar that colors the excitement – this is a first-class Americana-Rock band. Segueing into a driving "Outta Here Alive," the band never lets up with its assortment of clever lyrics and inventive melodies. Their performance continues to be tight and I have to assume, because their songs are not intricate, that they must sound great live as well. They certainly know how to construct a song – to bring it down, build it up and keep the listener interested. This song dispenses some excellent commercially inventive musical ideas – the way bands of the 60's who were focused on a hit single worked. Three minutes – get in and get out and make your point.
A little more country is "Don't Go to Reno," with drops of notes from the pedal steel again. The genre is more of the country-punk of Rubber Rodeo with Trish Milliken. That band was so wonderful and they managed to record albums that showed you how adaptable country was to a more aggressive musical style. ("Anywhere With You," "Maybe Next Year," & "Before I Go Away"). Kristin returns backing up Brian and this is gold. They sound so good together. Kristin needs to be featured as an alternate lead singer to add more diversity to the singing. It would be a nice balance for the band's sound. 
The finale has a melody reminiscent of Bob Dylan's "Knockin' On Heaven's Door," but to my ears – so what? Dylan has borrowed so many traditional melodies from other sources throughout his career it shouldn't bother anyone that Television City has reinvented the song. So, "Vince Neil and Stan Van Gundy," is a pleasant walk down memory lane. Vince Neil? Motley Crew singer? Stan Van Gundy (the basketball coach?)
TC samples lines from Neil Young's "Hey, Hey, My, My…" and it works effectively in the body of the song. Very nice lead guitar throughout the song by Garrett. And that wraps up the assessment. The only criticism I have, but it's not terribly important – is that I find the name of the band – Television City -- not in keeping with the music style the band plays. So, it's a little distracting. I expected more of a harder edge, punk style, more electronics, and aggression. But that's not what the band provides. They are polished and bug-free. The band name is a little cold. The music is invigorating. It may be too late to rethink the band name when they already have a following. But, that's the only issue I have. The band title doesn't give me an accurate sense of the wonderful music they write and perform.
The band is out of Michigan, and their collection of ten songs was produced by pedal steel guitarist/organist David Feeny at the Tempermill. The album is scheduled for release April 27th, 2018. Television City has other albums available and worth checking into.
I have no comment on the artwork/packaging of their album because I previewed the album by streaming it. 
Website:  https://www.teeveecity.com/
FaceBook: https://www.facebook.com/teeveecity/
Disclaimer: The opinions expressed in this review/commentary are those of the author and do not necessarily reflect the official position of No Depression. All photography is owned by the respective photographers and is their copyrighted image; credited where photographer's name was known & being used here solely as a reference and will be removed on request. YouTube images are standard YouTube license.
John Apice / No Depression / April 2018