Album Review
A Mighty Crafter of Songs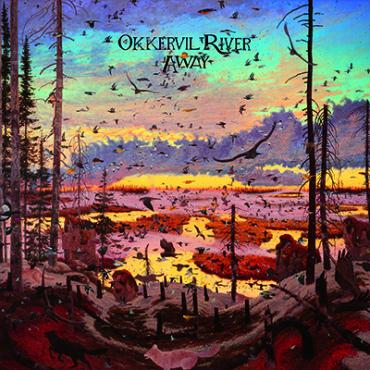 Since singer-songwriter Will Sheff began his Okkervil River project in the late '90s, the band has consistently released exceedingly good albums, from Don't Fall in Love with Everyone You See (2002, Jagjaguwar) to The Silver Gymnasium (2013, ATO Records). Okkervil River's latest studio album, Away (released Sep. 9 on ATO Records), is no exception, as it continues the band's long tradition of combining indie folk, rock and pop with intelligent, detailed and artistically impressive lyrics and evocative vocals.  
Away is not exactly the stuff of Okkervil River's '80s-influenced concept album The Silver Gymnasium, which was marked by so much nostalgia for Sheff's early life in his hometown of Meridien, New Hampshire. Nor is it exactly the stuff of the band's 2002 fan favorite album Black Sheep Boy. Instead, it is both somewhere between those two points on the band's timeline and the next phase of the project's musical evolution. It's more mature and polished, with improved musicianship and more developed songwriting, all while maintaining Okkervil River's signature sound.  
All nine tracks are more than a little worthwhile, though there are a handful of standouts. "R.I.P.," the album's opener, is a personal, melancholy song that builds wonderfully as it goes along. For "The Industry," Sheff and company move into folk-rock and indie pop territory. "Frontman in Heaven" offers busy, storytelling lyrical content over gentle, shimmering music, which soon transitions to a mild rock segment. Meanwhile, "Call Me Renee," "Comes Indiana Through the Snow," and "Days Spent Floating (in the Halfbetween)" are wholly beautiful, captivating songs.   
Comparisons aren't a simple thing when it comes to Okkervil River. In the spirit of trying, while it is not a perfectly sufficient one, if the band's early efforts were somewhat comparable to Bright Eyes and Neutral Milk Hotel, Away would exist in the short space between bands such as Frontier Ruckus and Neva Dinova, with arrangements that are as full, intricate, and well-written as those by Sufjan Stevens. But when it comes down to it, Okkervil River is its own project with its own unique sound.
Away further proves that Will Sheff is a true poet and mighty crafter of songs, with a keen awareness of his own existence as well all of the life happening around him. This individual was clearly meant to make music.