Album Review
The Migration of Eric Bibb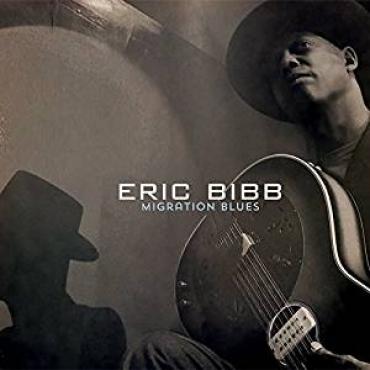 It's what you'd want God's voice to sound like- mellow and reassuring, but with an steely undercurrent that lets you know he means business. Eric Bibb's music has a heavenly aura, but his focus is as often as not on secular issues.
For his latest Stony Plain release, Bibb's theme is immigration. The current world refugee situation moved him to address his concerns in plain language that points out that fear and ignorance are the main problems, not the refugees themselves, whom he describes as "courageous fellow human beings escaping dire circumstances." But Bibb doesn't glibly sweep all refugees into one group or even one time period. He also addresses what he calls "The Great Migration," when large numbers of African-Americans left the rural South to find what they hoped was economic and social respite in the North.
Bibb excels at preachin' blues, and he gets right to it on the opener, "Refugee Moan." His delivery is mellow, but the lyrics are anything but. "Take me where I can live in peace," Bibb moans soulfully. "If there's a road to a peaceful country where the people have pity on a homeless man /Lord, make that highway my way."
"Delta Getaway" is based on a true story, a conversation Bibb had with an elder Mississippi bluesman who was running for his life after witnessing a murder: "Saw a man hanging from a cypress tree/ I seen the ones who done it/now they're comin' after me." His delivery is smooth as velvet, but there's plenty of iron lurking underneath to weigh this one down on your conscience.
Bibb lightens things up a tad on "Diego's Blues," his gorgeous fingerpicking framing the imagined tale of Diego James Petway, the result of the union of a Mexican immigrant who came to the Delta in the '20s and married a black man, bestowing upon him the mixed blessings of being "raised on tamales, good collard greens an' blues."
Aided by the mournful harmonica of sidekicks JJ Milteau and Michael Jerome Brown's rhythm guitar, Bibb takes country blues up a notch "With a Dolla In My Pocket," noting that he was able to put more rage in the lyrics than an elder bluesman could have gotten away with back in the Great Migration days. Bibb has his protagonist observing hat he'd rather be freezin' in the cold North than hanging from the trees in the Mississippi sun. But in the next stanza, he admits that "I musta lost my mind/couldn't hold my tongue /them words I shouted /will get a black man hung."
Bibb covers Dylan's "Masters of War" and turns in a beautiful version of Woody Guthrie's "This Land Is Your Land" accompanied by Brown's trilling mandolin and Milteau's warbling harp.
Bibb takes it out churchy, doing that voice of God thing with "Mornin' Train," wife Ulrika contributing some heavenly harmonies.
It's typical Bibb, wondrous and moving, yet down to earth, delivering the celestial goods at a grass roots level.