Album Review
Mike Zito's First Class Blues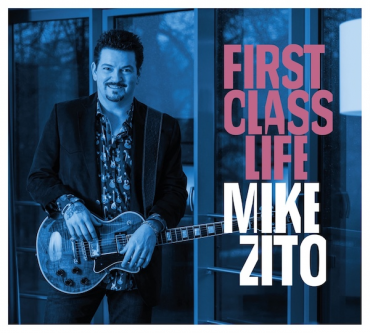 Mike Zito's music has always been first class. But like many bluesmen, his life has been returned to sender for a do-over due to insufficient postage a time or two. He started out at the top with his sophomore release, 09's Pearl River, winning BMA's Song Of The Year award for his collaboration with Cyril Neville on the title cut. 2011's Greyhound got a nomination for a Best Rock Blues BMA.  His hookup with Neville and Devon Allman with Charlie Wooten on bass and drummer Yonrico Scott as Royal Southern Brotherhood from 2010 – 2014 produced two releases, their 2012 eponymous debut and 2014's heartsoulblood as well as a "Best DVD" for the band's Ruf Records release Songs from the Road- Live in Germany.
Zito started his own band, The Wheel, in 2012 with Scot Sutherland on bass, Lewis Stephens on keyboards, drummer Rob Lee, and Jimmy Carpenter on saxophone. That band put out one record, 2013's Gone To Texas, which Zito said was dedicated to Texas, where he turned his life around after a long bout with alcohol and drugs. The guitarist touched on his gratitude to come off the road to be with family, but didn't get into detail as to his travails. He disbanded the Wheel shortly afterwards for a harder blues sound with 2016's Make Blues Not War, featuring only producer Tom Hambridge on drums, Tommy MacDonald on bass, and Rob McNelley on guitar.
His latest features an all new cast, Lewis Stephens on B-3 and piano, Matt Johnson on drums, Terry Dry on bass, and guest Bernard Allison on rhythm and lead on one cut, "Mama Don't Like No Wah Wah."
With Muddy on the radio, his woman at his side, and Clarksdale on his mind, "Mississippi Nights" is the soundtrack for a Delta drive- thru. "The Devil's at the crossroads, baby, you can sell your soul for the blues," Zito proclaims before going off on a greasy slide odyssey sounding like he's already made that devilish deal.
The title cut sounds like a Delbert McClinton production, slinky honky-tonk that rocks your boots off, Keith Richard Exile-era licks sneaking in around Zito's roughed up, soulful vocals.
There's some shape-shifting going on with "I Wouldn't Treat a Dog," Zito shadowing Robert Cray channeling Al Green on the soundtrack of a soulful spaghetti western.
"Old Black Graveyard" is not some conjure myth, based instead on Zito's late night wanderings at an abandoned graveyard near his Beaumont, Texas, home where Blind Willie Johnson is buried and the ghosts of the neglected dead are said to howl in frustration late at night. If you ain't got no respect for the dead and their contributions, you best keep moving past this graveyard 'lest something reach out and drag you under with 'em.
"Mama Don't Like No Wah Wah" is another true story, based on Bernard Allison's stint as Koko Taylor's guitarist. "Mama had only one rule by which you must abide," Zito says as Allison delivers some Albert Collins frostiness around him, brought up short by Taylor when he slips into bow-wow box mode, strongly cautioned about Mama's unadorned guitar preferences.
Zito personalizes what could have been just another jab at indifference and injustice on "The World We Live In" by wiping away his little girl's tears when she comes home upset at the meanness of her peers. "Don't take your live for granted/Hug your kids every day," he advises. "Tell your baby you love her/Give thanks when you pray/This world is not forever/It's only on the way/It's just the world we live in."
Once again, Zito has  delivered the  goods,  a first class package with no postage due.