Album Review
Miles Davis at Newport 1955 - 1975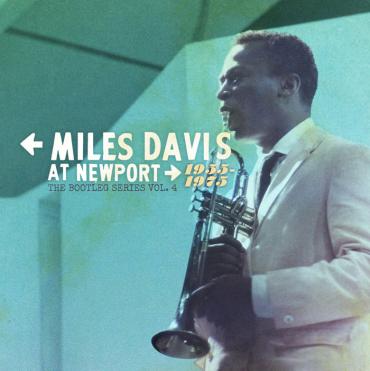 Review by Douglas Heselgrave
A new four CD box set featuring highlights from Miles Davis' appearances at the Newport Jazz Festival 1955, 1958, 1966, 1967, 1969, 1973, 1975 as well as from Newport Jazz Festival in Europe 1971
With the dozens of albums he released during his lifetime, and the flood of studio recording out-takes, live and box sets that have come out in the years since his death, you would have thought we'd be near the end of the line for high quality Miles Davis music.  But, after listening through the incredible new four CD set of highlights from Davis' performances at the Newport Jazz Festival between 1955 and 1975, I'm starting to think that we've just scratched the surface as far as understanding his artistry is concerned.
Miles Davis was one of the geniuses of twentieth century music.  He had few peers in jazz, yet for most people he remains a remote and mysterious figure – more of an icon than a musician who has been well understood and assimilated into mainstream consciousness.  A new biopic coming out later this year may help change that, but the sheer volume of cutting edge, aggressive and groundbreaking music that Davis played and composed during his lifetime has prevented him from assuming the same kind of comfortable legacy that other legendary artists such as Louis Armstrong or Duke Ellington have enjoyed.  He was a baffling, uncompromising and unrelenting artist, whose output largely remains an enigma. While preparing for this review, I took a quick look through a few of my friends' record collections and other than for one or two dyed in the wool jazz heads, their Miles Davis selections didn't extend much past 'Kind Of Blue' and 'Bitches Brew.'  And - don't get me wrong – they're both great albums; I don't think I'll ever get tired of the seductive modalities of 'All Blues', 'Blue in Green' or 'Flamenco Sketches' from 'Kind of Blue' or the psychedelic free jazz of 'Spanish Key', 'Miles Runs The Voodoo Down' or 'Sanctuary' from 'Bitches Brew', but as good as these landmark recordings are, they only tell a fraction of the Miles Davis story.
Until recently, record companies have acknowledged which parts of  Davis' output were the most popular and have exploited the hell out of them.  This is particularly true of the 'Bitches Brew' era, which has been treated to a box set of complete studio sessions and several live sets including last year's excellent 'Miles at the Fillmore' that showcased how the album's material continued to expand in a concert setting.  With so much good material from the 'Bitches Brew' era as well as recordings like 'Friday and Saturday Nights at the Blackhawk: complete' from 1961 that reflect the 'Kind of Blue' period, it's not surprising that most of the Miles Davis music that is listened to falls into these comfortable two pockets.  Like many other people, I've done a little venturing into recordings such as 'In A Silent Way,' 'Live Evil' and 'On The Corner' that reflect some of the sounds of 'Bitches Brew' and backward into the Gil Evans era with 'Sketches of Spain' and 'Porgy and Bess', but it wasn't until I spent time with the newest 'Newport' box set that I've realized how many gaps there are before I reach a more complete appreciation and understanding of Davis' musical journey.
To be fair, 'Miles Davis at Newport' doesn't – and couldn't - tell the whole Miles Davis story, either.  Davis played and composed music up until his death in 1991, and the most recent recording in the Newport set is from the 1975 festival. Yet overall, these four discs do an admirable job of charting the trumpeter's creative growth during the busiest years of his career.  Of course, the story of the Newport Jazz Festival roughly corresponds with Davis' own biography and the acceptance of jazz in America in general.  By choosing the Newport Festival as the touchstone and narrative thread that holds this release together, the producers wisely chose an environment in which Davis always played at the top of his game.
The earliest recording on this set comes from the 1955 Newport Festival and featured Miles leading an all-star band that included Thelonious Monk, Zoot Sims, Gerry Mulligan, Percy Heath and Connie Kay.  It is a crisp and beautiful set that highlights the interplay between these giants of jazz.  Highlights include an expansive version of Monk's 'Round Midnight', a song of which Davis never tired and which provided a template for many of his evolving musical ideas over the decades.  In 1955, he played it as an exercise in timing and restraint as his spare trumpet notes punctuate the silence with a frail and aching beauty. Always a study in contrasts, Davis offered a more propulsive and questioning take on this standard in the 1967 concert featured on disc two of this set.  The 1955 concert closes with an inspired reading of Charlie Parker's 'Now's The Time' which perfectly illustrates the place between mastery of the past and defining the future of jazz where Miles stood at that time.  It is an absolutely stunning performance.
For all of the brashness and experimentation of the 'Bitches Brew' years, the greatest developments in Davis' sound can be heard in the differences between the 1955 and 1958 performances.  As Willis Conover remarked in his introduction of the band, by that time Davis had reached a point of popularity that forced him to stretch further out in order to retain his cutting edge.  His 1958 band, like his 1955 outfit , featured an unbelievable roster of talent including John Coltrane, Bill Evans, Cannonball Adderley, Paul Chambers and Jimmy Cobb. With 'Kind of Blue' yet to be released, it's interesting to speculate whether the audience had any idea of the significance of what they were witnessing. None of the 'Kind of Blue' material is featured in their performance, but from the first blasts of 'Ah Leu Cha' and the epic reworking of Monk's 'Straight No Chaser', it was evident that Davis was on fire and creating, often on the spot, music as great and important as anything ever written.
By the time Miles Davis returned to the Newport Festival in 1966, he had switched bands and the era of the 'great quintet' was in full swing.  Like his previous groups, the personnel Davis assembled to support his newest musical visions – this time including Herbie Hancock, Wayne Shorter, Ron Carter and Tony Williams – featured the best players of the era.  Considered through the rear view mirror, it all but strains belief that these men created music on the same stage together. By listening to The Quintet play material such as 'All Blues' and 'So What' from Kind of Blue in 1966 and 1967, you can practically hear the history of jazz deconstructing and reassembling in the space between notes.  This is especially evident in the 1967 'So What' which speeds past the original arrangement without so much as a backward glance.  Intense, ferocious, strident and assured, the music wrestled into creation by The Quintet was unlike anything heard before.  Material from band members such as Ron Carter's 'R.J" and Wayne Shorter's 'Footprints' extended the group's sound into new directions and offered a wide variety of possibilities.  Perhaps, in recognition of the demands they were placing on their audience, Davis was careful to include at least one old nugget in his sets and 1966's 'Stella By Starlight' and a 1967 recap of ''Round Midnight' serve to ground the audience, and remind them that Davis and company could play sweetly and with restraint when it suited them. But, those seeking the gentler side of Miles Davis' artistry would do well to shy away from many of the Newport performances. Miles Davis was a restless and evolving artist who refused to be held in by past expectations.  He was searching for new sounds  Even the traditional set closer, 'the theme' became wilder and more ripping as the years go on, and even one of the trumpeter's more contemplative excursions, 'Seven Steps To Heaven' was blown wide open when it was revived for the 1966 concert and is one of the most accomplished and fascinating performances in this collection.
Listeners familiar with the 'Bitches Brew' era material that has been so heavily featured in earlier releases in 'The Bootleg Series' won't be surprised by the intensity of the recordings from 1969, 1971, 1973 and 1975.  As late as the 1975 recording of 'Mtume' from the New York version of the festival, Davis' love for free heavily percussive free jazz is still very much in evidence.  It's an amazing performance with Davis' loose and minimalistic trumpet melodies gliding through complex and weaving jagged dances of sound.  Overall, the 'Miles Davis at Newport' box set doesn't offer many opportunities for easy listening, and sometimes you can hear the pain in the music as it struggles to be born. Still, Davis never loses his way melodically, and perseverance with the material offers rich, rich rewards. This is music that stretches and pulls and bangs against walls that no one even knew were there.
Even though, "Miles Davis at Newport 1955 - 1975' doesn't offer a complete overview of the man's work and only scratches the surfaces of his musical interests and obsessions, it offers another great and essential piece to the puzzle of what Miles was all about.  Like all of the releases in 'The Bootleg Series', the Newport set is bargain priced with great essays, photographs and an attractive design, and should attract a whole new generation of listeners to his work.
As I said at the beginning, no single collection could represent Miles Davis in all his complexity, but this is as essential a collection as a person could ever hope to hear.  It's best taken in slowly and savoured over time. I envy you the journey.
This review also appears at www.restlessandreal.blogspot.com
Sign up for free updates