Album Review
Modern Alt-Country Style A Step Away From Traditional Country -- Resonates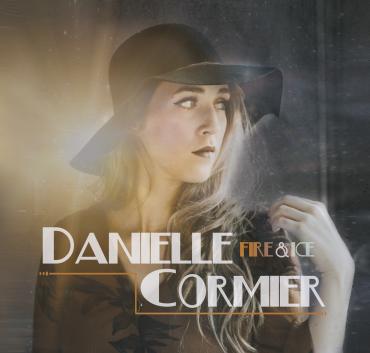 What impressed me immediately about the debut album by Danielle Cormier is her first song "Walking in the Dark," from her ten-song alt-country collection Fire & Ice. This CD has a bright, in-your-face production with a crisp separation of thundering drums and sharp like machete guitars. All dressed up in an orchestrated coat of dazzling instrumentation and Danielle's sizzling voice.
If the modern country style is going to step away from traditional country values let it be like this. At least a showcase like this one is not whole-hearted country pop music – it has substance. Let's see how long it lasts.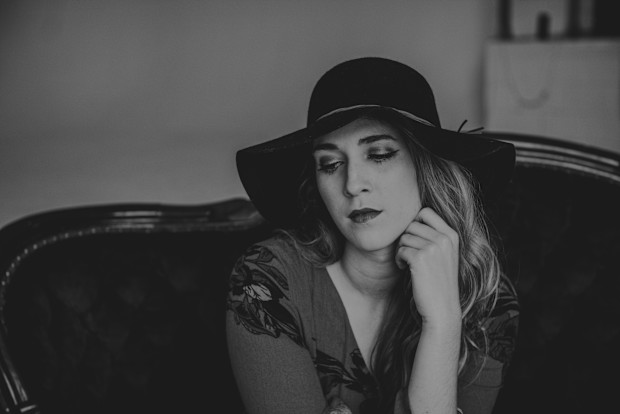 "Can't Quit You," -- and all the tracks on this collection were produced extremely well by bassist, keyboard player Adam Lester and the appearance of legendary lead guitarist Peter Frampton adds sparkling lead guitar that is convincing. The song is borderline rock but Danielle's voice is planted deep in a country-tradition and it keeps it above the surface of drowning into a pop sensibility. This is powerful stuff. Competent performances continue to support the 21-year old Ms. Cormier with delicate stitches of guitar, piano, steady drums and absorbing bass such as the work done on "Light Me Up." You'd think with a title like that it would be your typical cliché driven lyric but this is all avoided by the fluid arrangement of the instrumentation. It all drives at top speed to its crescendo and never lets up. There's nothing boring here.
Things slow down with "Just One Night," and a listener can focus a little more clearly on Danielle's vocal prowess. It's an average ballad but the chiming guitars are like lemonade to the ears and that alone elevates the song and makes it so attractive. The drums are mixed up front (and that's a gamble on a ballad) but it works because drummer Dan Needham lays down a beautiful sound on his snare. Danielle's vocals seem to always have a little effect on them – not echo, but an enhancement. Danielle has vocal power but it sounds as if this is the style she wants to convey. That, or the production itself lends itself to that kind of vocal treatment and it isn't over-used which is a blessing.
Continuing with strength and conviction is the title track "Fire & Ice," with a little effect on the background vocals. Nice intricate guitar work, fluid drums, and bass (David Labruyere on this one) provide the tune as a most accessible track. Good as a single and quite commercially acceptable. It snaps with hooks and propels itself beautifully. Adam Lester's lead guitar cuts through it all with expertise.
Another ballad as a duet is with Adam Corbin – "Haunted" a meticulously crafted little song with acoustic guitar, cello by Matt Nelson (who appears on two other tracks as well) and Danielle's voice which is more fragile but sincere and persuasive. So, what does this reveal? Well, Ms. Cormier is capable of kicking ass on her country rockers and she can make some wonderful pensive music as well. Corbin provides gentle vocal accompaniment but the entire song is dominated by Danielle's generous and emotive vocals.
"Runnin," according to the CD credits also features the guitar wizardry of Peter Frampton but that may be a typo. I think Peter only performed on one track. This is another dynamic track nonetheless -- with a snarly snaking guitar around Danielle's somewhat processed voice – which adds some dimension but I think Danielle's vocals are powerful enough to succeed without it. If it's not Peter Frampton on lead, then it must be Adam Lester. This is a nice incendiary song and Danielle proves her rock credentials on this. Soulful backup singers add to the performance.
The next track is the best thing on the entire album. The melody from its opening notes is easily mesmerizing. Danielle's voice is where it should be and the lyrics are compelling. "The Times When," -- quite different from any other track on the collection. This has that savory, mysterious aura that makes music so intense at times. This track was written by Danielle with Adam Lester and the musicians pour on the atmosphere. Crisp lead guitar, absorbing drums that keep a steady thunderous beat (recorded excellently). Nothing intrudes on Danielle's vocals and you can hear so many little additions to the instruments. A real keeper.
Simple beat opening changes the style of introduction to the songs and on"You're the One," Danielle is in a convincing Eva Cassidy tone. A little more in a contemporary mode Danielle obviously is attracting a younger crowd with this performance despite the more retro musical arrangement – especially the guitar that has Les Paul type notes. But, her voice and melody most importantly are effective and what hits today are known for. Very danceable as well. While I'm not thrilled by these types of songs I must admit that good is good. No denying this one is done very well.
More to my liking is this final track "Three Wishes," which has that guitar strum and shuffling beat that is catchy and puts smiles on people's faces. This is my second favorite song on the entire album. Marvelous likeable lyrics and Danielle's vocal is reminiscent of the great female country-rocker vocals that placed many top ten hits in the charts of the 60's with consistency: the Sandy Posey's ("I Take It Back," "Single Girl"), Diane Renay's ("Navy Blue"), Merilee Rush ("Angel of the Morning"), Robin Ward ("Wonderful Summer"), Lesley Gore ("Judy's Turn to Cry"), and Skeeter Davis ("The End of the World"). 
I look forward to hearing more from Daniele – a North Carolina native. I would compare her to the young Joni Mitchell but lyrically and musically that's a high-level mark. Danielle still has to develop to get to that combined level. She does have that potential and it is quite obvious.   
The true test of possible longevity as a recording artist comes by adding a single cover song to see how it applies to Danielle's exuberant style. Even the Beatles and Bob Dylan have covered other people's songs. And that cover doesn't have to be a prior hit by another artist – just a song that shows how she can be comfortable and even more diversified. A talent to watch.
All songs were written by Danielle Cormier except "Walking in the Dark," "Can't Quit You," "The Times When," written with Adam Lester. "You're the One," was written by Adam Lester. The 39-minute album was Produced by Adam Lester with Executive Producer: Tracey Cormier.
The CD package is a classy die-cut 4-panel with an attractive almost sepia image of Danielle in a dark floppy hat (Megan Censula – Photography). There is no lyric book insert – maybe next time. The artwork was produced by Anna Haas of Red Hare Creative.
Website: http://www.daniellecormiermusic.com/
Facebook: https://www.facebook.com/daniellecormiermusic
Disclaimer: The opinions expressed in this review/commentary are those of the author and do not necessarily reflect the official position of No Depression. All photography is owned by the respective photographers and is their copyrighted image; credited where photographer's name was known & being used here solely as a reference and will be removed on request. YouTube images are standard YouTube license.
John Apice / No Depression / June 2018