Album Review
Modern Life Through a Vintage Lens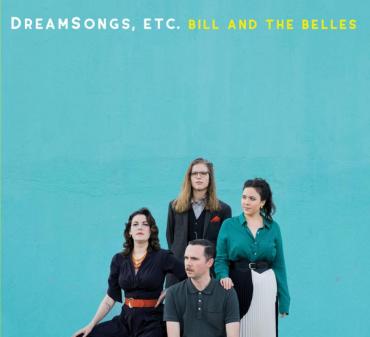 The term "roots music" has evolved to incorporate a variety of different sounds these days. But those who subscribe to a more literal interpretation of the phrase will be relieved to know that a band like Bill and The Belles exists. Drawing inspiration from the music of East Tennessee, specifically the music popularized out of Bristol in the late 1920s, Bill and the Belles showcase with their debut album, Dream Songs, Etc., what may be the most innovative modern interpretation of vintage roots music.
Kris Truelsen, the band's leader, is producer and host at WBCM – Radio Bristol and an avid student of early country music. For Bill and The Belles, he says he draws inspiration from such classic band leaders, or "crooners," as Riley Puckett, Jimmie Rodgers, Cliff Edwards, Bing Crosby, and Leon Redbone as well as slightly more contemporary guys like Buddy Holly, Merle Haggard, Marty Robbins, and Roy Orbison. The band's sound is completed by Kalia Yeagle (fiddle, guitar, vocals), Grace Van't Hof (banjo, banjo-ukulele, vocals), and Karl Zerfas (bass), with additions on Dream Songs from Evan Kinney (accordion) and Aaron Olwell (clarinet) that color the band's sound with influences ranging from early jazz to western and eastern American mountain music.
Dream Songs, Etc. provides the listener with a charming collection of both originals and covers that explore an overarching thematic yearn for a better life. The tunes are highlighted by gorgeous three-part vocal harmonies and include reflections on romance, discovering a deeper sense of self through hardships and loss, and frequent use of images and sensations that anchor select tunes as if it were those focal sensations themselves that reminded the narrator of that moment to begin with — as is often the case with how a memory is rooted.
In terms of the recording itself, well, the technology has vastly improved since the 1920s. And through the work of audio expert Joseph DeJarnette of Studio808A and backing by Jalopy Records (from renowned New York City folk center, the Jalopy Theater), Dream Songs, Etc., stands as a beautifully engineered reflection back to the charming sounds of vintage roots music that provides new reflections on life and, as visually experienced through their two music video releases (see below), a fresh, pop spin that emphasizes the simplicity and beauty of the music.