Album Review
Modernized & Original Music Hall, Tin-Pan Alley Tunes With Ordinary Brilliance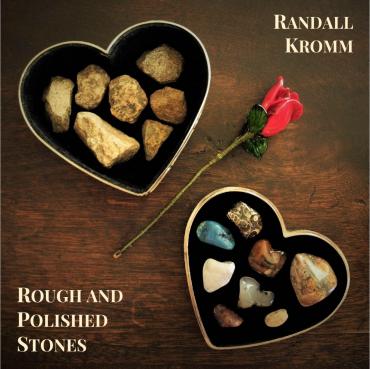 Something taken from a different perspective and more in keeping with what popular music once was back in the late 40's and throughout the 50's is "Rough and Polished Stones." A collection of tracks that focus primarily on love, romance and family from the voice of a singer who crafts his tales from the eyes of someone middle aged. What?
It's true, and while it's easy to assume this will all go down as a novelty album -- it isn't. Boston singer-songwriter Randall Kromm explores each song with seriousness, insight and most importantly, effectively in different styles on his fourth release. Track one "Love in the Middle Ages," describes the middle-aged personalities on an average afternoon. Alright, no millennial is going to buy this stuff but here's a flash – even a millennial will be middle-aged one day. LUC (Laughing uncontrollably) – so they will always have this album to fall back on when they're done with whatever they listen to now. My ears can't focus on anything they listen to and it's not because the melodies are bad or the lyrics are poor -- it's because they hijack a lot of what came already and they call it their own (right Anna Kendrick who sings "Cups" -- actually a song based on the original 1929 Carter Family song by A.P. Carter -- "Will You Miss Me When I'm Gone?").
Even "Louie-Louie" from the early 60's has more depth than most of today's drek and radio still plays that old Kingsmen chestnut. At one time the FBI got involved. Gee, what were they really saying in that song?
Alright, it's not fair to criticize a young generation – they will find their way eventually. Even an old Donna Summer disco hit from the late 70's (the name escapes me) copped a melody from the Andrews' Sisters' 1942 hit"Aurora."
The new generation of kiddies do have some artists who are indeed talented. However, as time goes by the songs should not reflect more securely on reality and the effort should be more polished. "Why Do We Ask Why," is a slow jazz-standard with accordion by Joe Barbato and features Randall' Kromm's walking bass. Enjoy the moment is what the press release states. True. The tune itself is pleasant and quite Euro in feel. Sounds like something that would be played in a late night Parisian saloon with a busty barkeep and blue bottles of Moscato on the shelves.
Randall cleverly inserts humor in some tunes without being too cute. That's to be commended. "Arms Wide Open," is being susceptible to challenging times – don't we all have those? One of the best in this collection with a more serious and focused performance and with one of the most memorable melodies. I like the contrast of Randall's voice and the female backup by Emma and Grace Kromm. Joe Barbato plays a nice heavy Hammond B3 organ and though it's old-fashioned and not played with Keith Emerson (Emerson, Lake, and Palmer) gusto it does indeed leave behind a nice warm feel to the melody.
I wasn't expecting Randall to have three powerful songs in a row but track four "Desert Stars," is elegant. Jordan Tirrell-Wysocki's violin is a nice change from the previous tunes and Randall maintains a balanced yesteryear Cat Stevens type vocal effectively. Randall's timbre isn't quite Stevens' at his most powerful but there is a sensitive feel for Cat's quieter type vocal inflection.
Now, I said these songs were basically something out of the late 40's and 50's but I wasn't necessarily suggesting Frank Sinatra or Perry Como. These are light-hearted songs tackling heavy subjects and are more in line with the melancholy of a Hank Williams but not so much his country music as his writing – just in that genre that made "I'm So Lonesome I Could Cry," such a memorable song. Track five has an excellent Randall Kromm vocal and a penny whistle. "Down to the Waterfall," is more in a folk song tradition – about getting back to your own roots.
This solidifies Kromm's diversification as a songwriter. If the day comes when Kromm decides not to sing such middle-of-the-road selections, he could easily reconvene into a great folk-singer, country singer, or pop singer. His voice is warm when it needs to be and sounds like he could growl if he had to. But for now, Randall is covering a genre that Tom Waits isn't, that Leonard Cohen touched upon but never developed, that Buddy Miller and John Prine do but always seem to pour a little vinegar in. Kromm pours no whiskey into his tunes. They are just wholeheartedly the truth – the naked truth. He may be a small tree growing in the shadow of Richard Thompson and Chet Atkins but even a small tree casts a little shadow. 
Nice country-type guitar work colorizes "Talk Is Just Talk," – Kevin Barry's lap steel and lead guitar dominates nicely. Again, this shows excellent diversification of Kromm's music and it's nothing heavy, just to the point. Two plain donuts no powdered sugar. The lap steel song is followed by a piano-based tune "Friday Morning," which describes the end of the work week. Joe Barbato plays the piano and this is more in the tradition of the lighter folk singers of the 60's – the Richard Farina's, Townes Van Zandt's, Steve Goodman's, and Tom Paxton's. The guitar work is exquisite, as well as, the well-framed female back up singers. What Kromm offers here is an atmosphere, mood and it all succeeds. Mood? Yeah, that's something sorely lacking in most music today.
Randall Kromm's vocal texture is close to an old saloon singer who had one fine 1975 album "Ordinary Man," out in the 70's on the Anchor label (by ABC Records) – Sam Leno.
Leno ("Oh, Johanna," "Ordinary Man," and the great "Bring It Back") -- was a little more burlesque, vaudeville in tradition, a bit tin pan alley and music hall in style but his voice was close to Randall's and the lyrics are quite similar. Randall continues in this tradition with the fine upbeat "When We Remember When," a nice song about reminiscing and knowing when special moments are actually taking place.  This is quite good. 
The title track "Rough and Polished Stones," is an excellent little ballad with understanding what is in store for the second part of life. Billy Novick plays a subtle clarinet that contrasts all the other songs on the album by featuring yet, another different lead instrument. Kromm's vocal is poignant and warm. All the instrumentalists on this album perform with grace – no showboating, no wild endeavors just pure excellent focused playing that supports the singer and the song.
"Water Wheel," the final track was picked up from Randall's first album and bares repeating again for those who missed it the first time. It's a song that folk singer Christine Lavin hailed as a "modern classic" and I will repeat it here. It's a strong song about accepting one's place. Sad? Yes. But it has an inner strength that renders the song all its beauty. Daughters Emma and Grace Kromm return to accompany on vocals gently, solemnly and Jordan Tirrell-Wysocki returns with his violin and it simmers beautifully under the acoustic guitars.
And so, it would be easy to say we have a fine album here for some older people. But that wouldn't be true. Memories are collected almost immediately by the conscious and what young people can't forget is that time is a wheel. You keep turning and with each turn, you get a little older and someone is always ahead of you, but now...ah now -- there will be someone behind you. And that someone will see you as old.
So, we have an album waiting for you to make it all less painful. The funny thing is – an old rough stone left in a stream gets older but gets polished by the water. What is nature telling us? That the older we get – the better looking and softer we become? Ponder the question. While listening to this album and by the way millennial's – even Green Day sang about the "Time of Your Life." Maybe they understand where Randall Kromm is coming from. Shouldn't you?
The 41:00 album was produced by Randall Kromm and Eric Kilburn with all songs written by Randall Kromm. The CD cover design was by Randall and Grace Kromm.
Website:  https://www.randallkromm.com/
Facebook: http://www.facebook.com/randallkrommmusic
Disclaimer: The opinions expressed in this review/commentary are those of the author and do not necessarily reflect the official position of No Depression. All photography is owned by the respective photographers and is their copyrighted image; credited where photographer's name was known & being used here solely as a reference and will be removed on request. YouTube images are standard YouTube license.
John Apice / No Depression / Written in August 2018