Album Review
Monkee Revival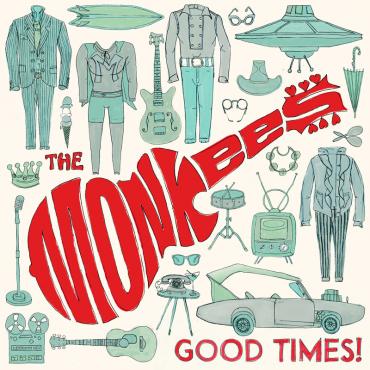 To many, they're just a musical footnote, a blip on a tiny screen that glowed brightly nearly 50 years ago then faded into obscurity. But the Monkees are a true cultural phenomenon,selling over 75 million records and amassing a legion of fans worldwide in the 6 years they were active from '65-'71.
At this point nobody expected a comeback, or even an appearance from the survivors, now in their seventies. But in May, the group came out with a product that tops anything they had done to date, singly or collectively. Here's one that might have flown under your radar, well worth another look before the year shudders to an end.
Remaining band members Micky Dolenz, Michael Nesmith and Peter Tork had some high-powered help with the lyrics on this project, from Weezer's Rivers Cuomo on "She Makes Me Laugh," Death Cab For Cutie's Ben Gibbard's "Me & Magdalena", XTC's Andy Partridge with "You Bring The Summer," and Noel Gallagher and Paul Weller's "Birth Of An Accidental Hipster." Fountains of Wayne frontman Adam Schlesinger produced and plays a variety of instruments on the Rhino records project.
But what makes this record special is that the Monkees are the soundtrack and the spirit here, singing, playing and contributing a song apiece to the release.
Some of the material has been recycled, but still sounds fresh. The title track was a demo submitted by Harry Nillson in '68, re-purposed with Dolenz on throat-ripping vocals and Schlesinger and Nesmith on guitar whipping up a pop frenzy. Dolenz has the final words on the subject with "I Was There And I'm Told I Had A good Time," a raucous stomp resembling the Beatles '69 "Come Together"
that Dolenz says came together quickly with the help of Schlesinger. He calls it tribal, but it's just old-fashioned rock and roll, with a groove deep enough to wallow in.
But Nesmith has plenty to say as well on "Me and Magdalena,", providing hauntingly beautiful family style harmony with Dolenz on the wistful folkie-flavored ballad.
Even though it was recorded this year, Tommy Boyce and Bobby Hart's "Whatever's Right" sounds like it was taken from an episode of the TV show. The duo, who were the principal writers for the group, also had a hit of their own with "I Wonder What She's Doing Tonight," also wrote Jay and the Americans' "Come a Little Bit Closer" and Paul Revere and the Raiders' "I'm Not Your stepping Stone" as well as penning the Monkees "Last Train to Clarksville."
Schlesinger seems to have a finely tuned ear for the Monkees sound. His composition "Our Own World" as voiced by the surviving Monkee trio sounds a vintage '60s track that's more pop fun than anything that's appeared on the charts in decades.
So if you come up short on your Christmas list, here's a little last minute something to slide under the tree. This one is truly better late, for your giftee and the people who delivered it, a mature rendering of a youthful sound that hasn't lost any of its charm or presence, a gift for the ages.