Album Review
Moon & Pollution - The Box Borealis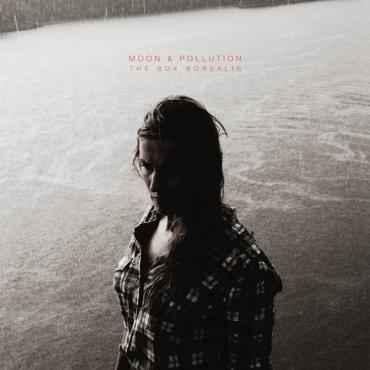 FIX Records recent release of Moon & Pollution's debut, The Box Borealis, heralds the arrival of an important new collaboration on the electronica landscape. The talents of vocalist/lyricist Molly Dean and drummer/producer Graham O'Brien conspire to turn a number of genre conventions on their head and open the form to new voices. Organic and synthesizer instruments alike flourish on The Box Borealis' ten songs. The songs have a strong orchestral quality too, but despite the fact that they sound and feel obviously constructed, they escape being drug down by a lack of genuine emotion. Instead, they play like fully realized efforts to express emotions, experiences, and musical messages important to their creators. This duo hailing from the St. Paul, Minnesota area are no strangers to artistic success, but may have found their perfect vehicle with this release.
There are elements on this album that might strike some as practically progressive. The leaden tempos occasionally perk up, but the duo's definition for percussion is much more elastic and their interest in ambient atmospheres is equally clear. The first song, the album's title cut, pushes the needle hard with the drums and, occasionally, keyboards, but it knows when to let off the gas. Much of the success the duo finds with these songs is attributable to their masterful use of dynamics and contrasting light with shade pays off enormously here. "Moving Scene" has a steady pulse, dirty sampled guitars, and strong lyrical content Dean manages to clearly convey through the sparkling layers of electronica and light echo enveloping each instrument. The Box Borealis makes liberal use of sampling, but Matthew O'Brien uses sampling much differently than some. Samples, in his sonic vision, are akin to Found Art that he manipulates and twists towards his own purposes.
Molly Dean takes over on keys and is joined by one of the album's many outside collaborators, guitarist Matt Leavitt, on "The Magnetic North". This is a much artier outing than most for Moon & Pollution, but it is to their credit as songwriters that their desire to tamper with forms never overwhelms their mission to present musically coherent material. It's one of the most interesting moments on the release. Dean and O'Brien are joined by bassist Casey O'Brien and guitarist Robert Mulrennan on "Solace Sandwich". It's one of the album's best moments and the addition of two superb players illustrates how this duo could evolve in the future. Some might question of such a large revolving cast of musical characters might adversely affect the album, but it's clear that Dean and O'Brien entered the studio with detailed ideas about how to accomplish their artistic goals and recruited the right people to help realize those aims. "I Didn't Look" and "Alter Eagle" are final reminders of how well the duo blends pop elements into their atmospheric compositions, but the last song is a departure. The stripped back glory of opening to "The Lonely Quiet" soon segues into something even grander and ends The Box Borealis on a
spectacular note.
TWITTER: https://twitter.com/moon_pollution
Cyrus Rhodes