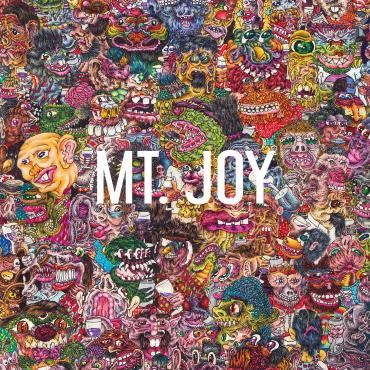 My college girlfriend and I had widely divergent tastes in music. She really liked gentle, upbeat folk-rock. I, at the time, was hooked on the cheesiest nu-metal 2001 had to offer. Jesus Christ, it wasn't even good metal – everyone sang like they were throwing up, while half the guitarists just downtuned their instruments, cranked the distortion on cheap amps, and rattled the strings. The only time there was an issue was when we were at some wide-open college party, and I wanted to hear something with some teeth. I've calmed substantially since then, because at the time I couldn't even imagine the intersection between party music and folk music.
Now that I'm a good bit older, I've definitely stopped going to college parties. Definitely. On top of that, I know there's such a thing as party folk, and it's purveyed by bands like Mt. Joy. The LA-via-Philly indie-folk rock outfit's new self-titled LP is rich with pleasing backbeats, rounded edges, and the earnest yawps of frontman Matt Quinn. If you'd played it for me at 18 or 19, I would have grudgingly admitted that Mt. Joy makes for a good college party soundtrack, though I would have found it wanting for sharp edges.
Nowadays, I simply find it wanting for sharp edges.
Granted, it's stylistically flawless. If you dig Jack Johnson or Ben Harper, Mt. Joy ought to be right down your alley. The rhythm section, for instance, applies jam band grooves to tight pop structures; This kind of thing was made for summer music festivals, no doubt. The guitars either snap along cleanly or step forward, overdriven and fuzzy, presenting solos or melodic riffs. Each tune builds to Quinn's blissful, anthemic choruses, though insistent earworms populate the verses as well.
Cuts like "Julia" follow a gentle jam-pop template, lyrics and all: Dude likes girl. Dude sings about liking girl. Dude continues to sing about liking girl. "That's my favorite waitress / those big brown eyes," Quinn sings before adopting an indie-soul falsetto. "I know what I ordered / but she's smiling like I can't afford it." There's plenty of teen movie soundtrack material along those same lines on Mt. Joy, such as closing track "Younger Days." Granted, it's one of the few cuts on Mt. Joy during which the band slows down and Quinn sings from a vulnerable position. "If you worry / don't worry about me / I always wanted you to see / the California coastline / on your own time," he sings, treating "Younger Days" like a letter home from Los Angeles to an East Coast friend. It's cheesy and excessively sincere like a Hallmark card, which may even be a strength. There's a reason Hallmark cards exist, after all – some human experiences can be painted in broad, general strokes, which is precisely what Quinn's doing here.
It's when Mt. Joy tries to be funny (what the hell is the point of that "Jesus drives an Astro Van" song?) or incisive that things become truly cringeworthy. Consider "Sheep," which is probably a sympathetic tune about Black Lives Matter and the ongoing crisis of police violence toward African Americans, but which is plagued with stylized, oblique language and mixed metaphors to the point that it's nigh impossible to tell. "There's blood on the streets of Baltimore / kids are getting ready for a long war / maybe I was born in the wrong skin / but those sheep are rolling in the mud again / it haunts me now / tell me it haunts you too," Quinn sings. "You cut it up / you cut it up / it's still the red, white, and the blue." In the background at a party, sure – Mt. Joy works just fine. Up close, not so much.