Album Review
Muscle Shoals Soul Man's Goodness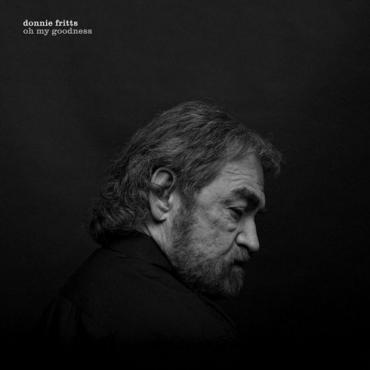 Donnie Fritts is a soul man. But you never could find him on the lip of the stage doing flying knee drops or screaming his tonsils out, sweating through a three piece suit. His soul was a bit more subtle, oozing out through the pores of Dusty Springfield, composing 1969's sexy ode "Breakfast in Bed" (with Eddie Hinton), 1973's "We Had It All" for Waylon Jennings (with Troy Seals), and 1977's "Easy to Love" for Joe Simon, with Tony Joe White.
Fritts was part of the famed Muscle Shoals team at Rick Hall's Fame Studios in Alabama. He worked with Spooner Oldham and Dan Penn, with whom he co-wrote "Rainbow Road," recorded by Joe Simon in '69, Steve Goodman in '71, and Percy Sledge, Arthur Alexander, and Joan Baez in '72. Starting in 1970, Fritts played keys for Kris Kristofferson, then toured and recorded with him for two decades.
To boot, Fritts put out three albums over the years: Prone to Lean (1974) Everybody's Got a Song (1997), and One Foot in the Groove (2008).
For his latest, Oh My Goodness, the 72-year-old Fritts' voice is weathered by age and road burn, but his soul still shines through. Produced by the Civil Wars' John Paul White, the album features Fritts' songs as well as co-collaborators Penn, Oldham, Alexander, and John Prine, plus a cover of Paul Thorn's "Temporarily Forever Mine."
"Memphis Women and Chicken" is a funky ode to down home eats, praising comfort food, and the females who whomp 'em up -- especially one memorable pie-making woman with dark blueberry eyes who has light powdered sugar sprinkled all in her hair. "I don't care if whiskey hits my lips," Fritts moans, sounding like an unholy amalgamation of Dr. Hook and Randy Newman. "Long as I get a taste of them barbecue ribs."
"Tuscaloosa '62" is an autobiographical ode to his teenage years, when he was a drummer playing frat parties with Hollis Dixon and the Keynotes. It's a jangly rocker that sounds like it'd be at home in a Paul Thorn set list, bolstered with a tasty slide interlude by Jason Isbell.
"Choo Choo Train" is a song Fritts wrote for the Boxtops in '68. Fritts managed to encapsulate everything about the Muscle Shoals sound into one song, the percussive chugging funk, the country boy soul, rattly backwoods rock, topped by cracked, anguished vocals. The thing just keeps building momentum till you can't stand it. It goes from a ragged acoustic strummer to a slide guitar-driven, burbling soul-organ-augmented throbbing rocker with a relentless bass line that recalls Otis' '68 hit "I Can't Turn You Loose."
Fritts' vocal on the title cut is an amalgam of Leon Russell and Dr. John, an unlikely blend that gives the poignant lyrics a twist that makes it even harder to get out of your head and off your lips.
"Oldest Baby in the World" is vintage Prine. Fritts perfectly captures Prine's vocal inflections, and the lyrics are a smooth blend of Prine's biting sarcasm and Fritts' more sanguine take on the complexities of an aging woman. It's a tough look at woman past her prime. "She's got the mind of a child, and a body peaking over the hill," Fritts sings in his well-broken-in leathery croak, adding that "her youth is a costume and the beauty within lies unfurled."
But in the end, despite the guest stars (Isbell, Prine, Alabama Shakes, Amanda Shires, White, and Swamper David Hood on bass for a few tracks) and the co-writers, Goodness is still Fritts' baby. It's just a man and his piano sharing what's been on his mind for seven decades.