Album Review
A Musical Meditation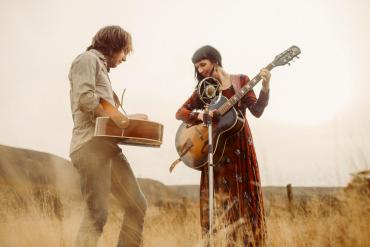 One of the purest forms of roots music is the duo, particularly those with minimal accompaniment. Think Emmylou and Gram or Richard and Linda Thompson. Along the same lines, Hannah Sanders and Ben Savage are an English duo, steeped in the folk tradition, who have just released their second studio album, Awake. It is a collection of songs, all but four their own compositions, that give a contemporary feel to an ancient form. Listening to this record is a form of meditation, with all its benefits. Sanders has a voice of such sparkling clarity that soars above and dips around Savage's dobro and their harmonies are exquisite.
Sanders and Savage met at a folk club in Cambridge. Both come from musical families so have been practising their craft from an early age. On Awake they have honed their earlier talents to feature more of their own writing.
The tarot imagery that adorns the album cover and continues throughout the CD booklet isn't there purely for decoration, Sanders and Savage find tarot helps them think more deeply about their music. There is certainly an air of mystery about the songs that relates to English folk. But it isn't all home roots, there is a distinct North American sound, probably aided by Canadian producer David Travers-Smith, whose work with The Wailin' Jennys explains why there is more than a touch of Ruth Moody in some of the songs.
They start with one of their own compositions, 'Selkie Song', about the mythical Scots and Norse creatures who live as seals in the sea but shed their skins when they become humans on land. The song is about a yearning to return to the sea. The sadness Sanders conveys is mesmeric, with the solo spare banjo notes only adding to the sensation.'I Met a Man' swirls the trance deeper demonstrating the perfect balance between Sanders' singing and Savage's delicate guitar.
Savage can sing, as he takes over on 'A Thousand New Moons'. They then duet reflecting on beginnings and endings. The mysticism deepens on '7' about those who seek omens in the natural world. That imagery is made more vivd by the crescendo of pedal steel and horns as well as the 'One for Sorrow' nursery rhyme chorus.
Of their songs, the title track is my favourite as it seems to bring everything they do together. The harmonies are ethereal.
Sanders and Savage cover the English traditional song 'Reynardine' perfectly. This song was my introduction to them, when they opened their set supporting Richard Thompson with the Fairport Convention classic. They do Sandy Denny proud. It's not often a support act opens in such spine-tingling fashion.
The Americana influence comes out on 'Santa Fe Trail'. Together Sanders and Savage convey the sheer weariness of travelling, its uncertainty but the need for hope whatever happens. They extract every last drop of emotion from Pete Seeger's 'One Grain of Sand' in a five minute mini-epic.
Whether reflecting profoundly on the mysteries of their songs and music or just letting their overall artistry remove the stresses and strains of modern life, there is a cleansing, uplifting quality about Awake.