Album Review
Nashville Duo Adrian + Meredith Drop New Album, 'More Than a Little'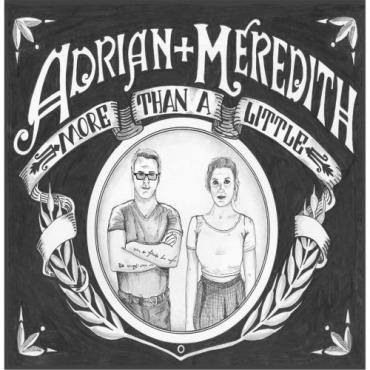 Nashville-based duo Adrian + Meredith is one of those projects to which a genre can be assigned, yet no single one does them complete justice. For one, Adrian + Meredith's music is too folk-punk to be country, and too country to be folk-punk. So what do we call it? Alt-Americana perhaps. Whatever the case, these two artists have a great deal of talent, and a noticeably potent chemistry to match. Therefore, the genre into which their sound can possibly be inserted is secondary to the fact that they play good old rootsy music that has appeal to fans of a number of styles. And this continues to be the case on the couple's brand new album and second full-length recording together, More Than a Little.
More Than a Little is comprised of eleven tracks, ten of which are originals. All of the songs were composed by primary songsmith Adrian Krygowski and Meredith Krygowski, and one song was penned with longtime band mate Paul Niehaus. The album opens with "Take a Boat," which possesses a roots rock quality somewhat similar to that of genre favorite Th' Legendary Shack Shakers. The bouncy second track, "Bank," is a high-energy roots punk song, while the following song, "Birthday Cake," brings the pace down to a steady folk rock pace, focusing on instrument nuance and lyrical content. The title track comes next, starting with its kick drum and fiddle intro and breaking into a full-band barn burner of roots rock perfection. "Hero" shows that Adrian + Meredith and their band mates can offer up a good, soulful slow song. "Fixer" has a ragtimey swing about it, while "Get What She Wants" adds some distorted electric guitar, pronounced low end, and snappy percussion, rockin' from start to finish. "Country Tune" is exactly what the title suggests. "Southern Call" continues Adrian + Meredith's signature sound, with plenty of energetic picking and drumming, awesome fiddle accompaniment, and slightly raspy vocals. More Than a Little closes well with the gentle country of "Old Midwestern Home."        
When Adrian and Meredith first joined forces it was musical worlds colliding, since Adrian had come up in the unconventional punk community and Meredith had been raised with traditional roots music. But somehow this couple's individual styles complement each other. And they have an outstanding band backing them. Paul Niehaus (guitar and pedal steel) has recorded and/or toured with such names as Justin Townes Earl, Calexico, Iron & Wine, Iris Dement, and Lambchop. Aaron Distler of Heypenny played drums on this recording. Mark Robertson of Th' Legendary Shack Shakers, Los Straitjackets, The Dirt Daubers, etc, contributed bass and produced the album. Diego Vasquez plays the trombone; and, a native of Peru, he operates a Peruvian food truck when not on the road with the band. Robert Michael Gay plays trumpet. Multi-instrumentalist Fats Kaplin, known as part of Jack White's touring lineup, provided tenor banjo. Th' Legendary Shack Shakers frontman JD Wilkes even contributed some harmonica.
More Than a Little by Adrian + Meredith was released partly through an unusual partnership with Daniel Lanois' streaming company, UpRise.FM. More Than a Little is available in vinyl, CD and digital formats.  
Check out Adrian + Meredith performing the title track from their latest album for American Roots Sessions in LA.