Album Review
Nathan Xander Looks Back to Move Forward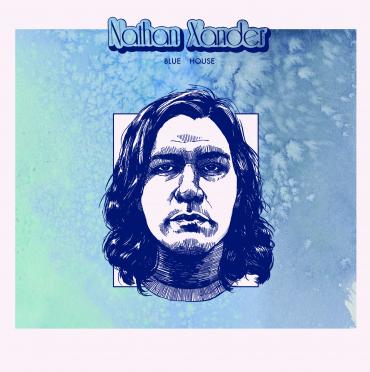 "Find comfort in things that remain the same," sings Brooklyn singer-songwriter Nathan Xander on "Old Boots," a track off his new record Blue House. The Pennsylvania-bred Xander seems to come back to this message again and again over the course of his album, always straddling the line between two places that pull him, and in turn, two versions of himself. Through deeply personal songwriting and his sweetly raspy twang, Xander mines this identity crisis beautifully and thoughtfully. He is able to tackle the often-grating millennial anxiety in a way that feels timeless and ageless, wondering where he belongs and seeking his purpose, minus the cringe.
Though Xander has been a touring musician for a long time, Blue House feels like some kind of culmination. He grapples with the struggle that comes from continuing to pursue his art when it seems hopeless, and he feels the tug of a simpler life away from the city – a feeling of homesickness that beckons him to return to his country roots. It's that same thing all city-dwellers feel when we leave the craziness behind for a bit, and get a taste of somewhere with a slower pace that just seems easier. Xander's slice of Americana "Pennsylvania" captures it best, and features one of the album's catchiest melodies.
"New York City makes me feel like a redneck/But back home I'm still the weirdest child," he sings. Xander operates with one foot out the door in this song, nostalgic for what he left behind, but scared that he may not fit in in either place. In it he ticks off all the things that he hates, but says, "I don't hate Pennsylvania yet." This song harnesses the idea that our hometowns remain pure in our minds, despite having their own complexities. Xander may not be ready to put down roots in one place, even though the idea of it nags at him every so often.
On "Day to Day", Xander recalls a truly bizarre, almost dream-like circumstance in which he ends up at a house party in the childhood home his family no longer occupies. At first it bums him out to see people "misusing [Mom's old kitchen]" and to walk "[down a hallway that was no longer [his]". But he comes away from it feeling grateful for the memories, detaching himself as he must. Like many of the songs on Blue House, it's intricate and detailed, like a box of photos or an obsessively kept old diary.
Blue House is also about growing up. The stunning "Over You, Over Me" finds him afraid that the constants in his life – the people and places he loves – will forget about him. This is one of the standouts on Xander's record, and a song that you'll find yourself revisiting when you need a little comfort; when you miss someone.
With its melancholy blast of harmonica, "(What it Takes) To Make a Man" is another standout, both sonically and lyrically. Xander sounds his best as he doles out wisdom he's learned the hard way. The little cracks and imperfections in his vocals lend a gritty beauty to his alt-country sound. There's a hint of the Jayhawks here.
Xander has been at it for some time, and Blue House is the work of an artist who knows himself well. Though he may be at a crossroads personally, as a musician he's creating some of his finest, most sophisticated work. "Sometimes I get tired of what I think I want to be," he sings on "Over You, Over Me". But he doesn't give up. He stares his insecurities down and moves past them, onto something bigger and better.
Blue House is available for streaming everywhere on July 4th, and will be released July 17th.