Album Review
The National Avoids Repetition, Breaking New Ground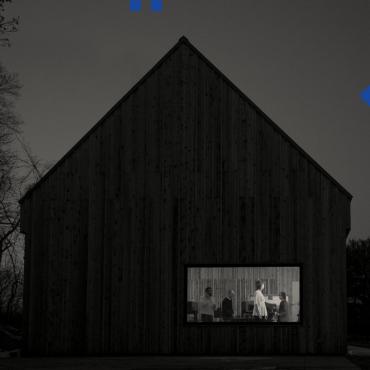 With Sleep Well Beast, The National distinguishes itself from other acts mining the dream pop, post rock, and Americana/folk lineages — Sufjan Stevens, From Indian Lakes, Arcade Fire, War on Drugs, and Fleet Foxes, among others — a leap comparable, at least in terms of creative prowess, to U2's vault from 1987's Joshua Tree to 1991's Achtung Baby.

Previous National sets plumbed melancholy, dislocation, and the costs of eccentricity with aplomb; that said, Matt Berninger's lyrics and delivery often rang as noticeably performative, the singer overly reliant on the persona of the despondent and self-deprecating romantic/cynic. On Sleep Well Beast's opening track, "Nobody Else Will Be There," however, Berninger seems freshly authentic, as if he's set aside the script, or is at least deviating from it, his voice more viscerally credible than on previous outings, reflective lyrics setting the tone of the album:
You said we're not so tied together
What did you mean?
Meet me in the stairwell in a second
for a glass of gin
The band, too, exerts a more viable presence on Sleep Well Beast than on previous releases, soundscapes complementing Berninger's vocals but with an immediacy, resourcefulness, and textural complexity that render them integral and hypnotic in their own right, far more than backdrops or mere accompaniments. "Day I Die" opens with Bryan Devendorf's driving beat, a metallic-sounding guitar streaking across the soundscape. Berninger's voice emerges from a welter of percussion, cresting guitars and synths courtesy of Aaron and Bryce Dessner. "The day I die / where will we be?" Berninger poses, his melody ironically lilting, as if he looks forward to his own demise. "Walk It Back" opens with a synthy riff that would be at home on Laurie Anderson's Big Science, Berninger's vocal simmering and droll, a reimagining of Leonard Cohen circa "I'm Your Man" or "Tower of Song":
I'm always thinking about useless things
I'm always checking out
I'm always mothering myself to bits
I'm always checking out
When Berninger sings outside his usual range on "The System Only Dreams in Total Darkness," released as a single in May, he tips his hat to Bono post-Pop. The recurrent and staccato guitar riff furthers and augments an aural foreboding. The band and Berninger avoid a formulaic take on angst, navigating what resonates as a universal and mysterious existential terror while showcasing their absorption of classic-rock templates (Brian Wilson, The Beatles, Chuck Berry, et al.).

On "Turtleneck," Berninger's voice strains a la Nick Cave (think Dig, Lazarus, Dig). Guitar parts illustrate neo-punk proficiency while remaining melodic, a caustic solo reminiscent of a Kurt Cobain improvisation. On "Empire Line," Berninger sings, "There's a line that goes all the way from my childhood to you," his cynicism, self-loathing, and melodramatic proclivities in abeyance, the singer facing relational dissolution head-on — vulnerable and pensive. On "I'll Still Destroy You," Berninger conjures Cohen's "Leaving the Table" from his swansong You Want It Darker:
I have no positions
no point of view or vision
I'm just trying to stay in touch with
anything I'm still in touch with
"Became a father when I was still a son," Berninger whispers on the closing/title song, the album ending much as it opened: atmospheric and volatilely philosophic, ambient accents and guitar amblings reminiscent of Neil Young's soundtrack from Jim Jarmusch's Dead Man.

With Sleep Well Beast, the Dessners, Devendorfs, and Matt Berninger alternately expand and shed their well-honed identities and default approaches, proving themselves more than consummate stylists. Sleep Well Beast is a testament to curiosity, inspiration, and egoic surrender: a work of art, exceeding its creators, exceeding its parts.