Album Review
Nearly a Half-Century of Alligator Records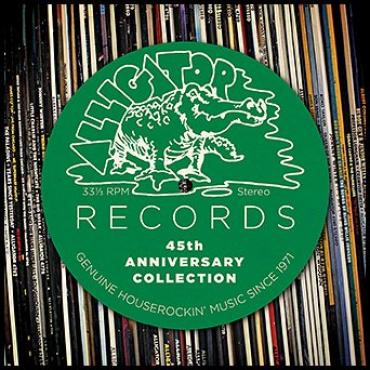 If Alligator Records didn't exist, somebody would have to invent it. Over the years it's become one of those things you take for granted, but one no blues fan could do without it.
The umbrella that founder Bruce Iglauer erected in order to shelter his artists, in 1971, had only one client at the time, but that client had enough heat to ignite a new Chicago fire that rapidly spread world-wide. Hound Dog Taylor's rattly kitchen table leg slide guitar and raw, racuous house-party, don't-give-a-damn attitude was an inside look at a scene and a sound few outside the city had ever heard.
Iglauer wasn't a native, coming to Chicago in 1968 while still in college in Wisconsin. Having befriended Jazz Record Mart owner Bob Koester, who also owned the blues and jazz label Delmark Records, Iglauer returned to the city again and again, soaking up the atmosphere and the music of Chicago's blues clubs. He moved to the city in 1970, and worked as a shipping clerk for Koester.
Hound Dog Taylor and his band, the Houserockers, became Iglauer's favorite group, and he pressured Koester to record them. But when Koester showed no interest, Iglauer took the task upon himself.
Working out of his apartment, he recorded, produced, distributed, booked, and promoted Taylor. It was a hand-to-mouth existence in the early years, Iglauer building the label slowly, sometimes releasing only one record a year for nearly five years. But the sound, the quality, and the realness of the music attracted the deep-roots blues players.
Son Seals and Big Walter Horton were early signups. Koko Taylor's signing in 1975 gave the label a tremendous boost, helping to pull giants like Albert Collins and Johnny Winter onboard.That roster grew into a who's-who of blues masters, unequaled in the industry.
Alligator drops one of these collections every few years, but they never get stale, nor do they repeat themselves. The 40th was the last one, with a roster that included Professor Longhair ("Red Beans"), Johnny Winter ("Mojo Boogie"), Albert Collins ("I Ain't Drunk"), Mavis Staples ("Step into the Light"), and Son Seals ("Goin' Home Where Women Got Meat on Their Bones"). Now, for the label's 45th year, some of those artists are back, but with different stuff that's sure to whomp up a heapin' helping of nostalgia.
You can forget about shuffling through the selections, looking for the good un's. Anywhere you jump in, you hit paydirt.
You can also forget about listening to just one or two tracks. The one you start with will be so good that your curiousity'll get the best of you and you'll want to see how they're gonna top that. Next thing you know, you've blasted all the way through one side and have worked up a powerful hankerin' to devour the goodies on the other.
Here's a few highlights, to whet your appetite: Lil' Ed and the Blues Imperials' opener "Hold That Train" will get your juices flowing. J.B Hutto's fez-wearing, rattly, slide-wielding nephew tears off hunks of juicy, greasy, good-time blues.
Son Seals is always a welcome re-visit. Although a disciple of Hound Dog Taylor and member of the Houserockers in the early '70s, Seals' style was totally different -- a fiery, stinging attack that owed more to his apprenticeships touring with Earl Hooker and Albert King. "Cotton Pickin' Blues" is Seals at his fiery best, from his '73 debut, The Son Seals Blues Band.
Charlie Musselwhite's "The Well," from his eponymous 2010 release, tells the true tale of his epiphany that released him from years of drinking. In '87, 18-month-old Jessica Morales fell in a well in Texas and was trapped for three days. In total darkness with a broken arm, the little girl kept her spirits up singing nursery rhymes to herself. Musselwhite heard the tale of the little girl on the radio and, impressed with her courage, decided to turn his life around.
I'd been drinking heavy for many long years
trapped in my well of trouble worry and fear
This little girl was being so brave
and I was drinking my way to an early grave.
Musselwhite made a deal with himself, saying a prayer for her "to live and escape this dark well," promising he would "quit all my drinking/ break out of my shell." He's kept that promise, providing us with many more years of his incredible harp.
No Alligator Records release would be complete without a visit from Hound Dog, and after all these years, he's still a standout. "Take Five"  is from his second release, 74's Natural Boogie. It captures Taylor in all his his rattly, distorted glory -- kitchen table leg sliding greasily along at a frenetic house-rockin' pace.
Disc two is packed with gems as well. Pull out Albert Collins' "If Trouble Was Money" for some chilly licks from the Master of the Telecaster, alternating between from backporch chicken pickin' and wee hours, uptown, low-down, wailin' blues, aided by A.C. Reed's unearthly sax conversations with Collins.
It's still difficult to listen to Michael Burks without shedding a few tears. Cut down in his prime by a heart attack at age 54, Burks sang like Robert Cray and played like a blend of Hendrix -- without all the feedback -- and Freddie King. "Empty Promises," from 2008's Iron Man, is all that and more, pulling glorious sounds from his Gibson Flying V, which he called the "best of both worlds -- the long neck of the 335 and the tone of a Les Paul."
Lazy Lester's 1988 take on Slim Harpo's "Raining in My Heart" befits his name. It's an even more laidback take on classic swamp pop, which was pretty laidback to begin with.
On the other end of the spectrum, the Kentucky Headhunters journey with pianist Johnny Johnson is a rock and roll circus. Johnson was in Chuck Berry's shadow for most of his life, but many -- including Keith Richards -- have wondered if it was Johnson, not Berry, who composed many of Berry's hits. The Headhunters adopted Johnson, taking him along on tour and recording two albums with him. The last one went unreleased until ten years after Johnson's death in 2005. "Stumblin'" is the best let's-get-drunk-and-dance record ever made. You can't keep still once you put it on, and you'll find it builds a powerful thirst as well.
Jarekus Singleton is a relativity new face under the Alligator umbrella. His fiery sets invoke the three Kings -- B.B., Albert, and Freddie -- as well as some scorching Hendrix licks. He demonstrates here on the title cut, "Refuse to Lose," from his 2014 debut.
For a closer, you can't beat the Holmes Brothers. The musical memories are all that's left of the group now. Drummer/vocalist Popsy Dixon and guitarist/keyboardist/vocalist Wendell Holmes passed away in 2015. Here's "Amazing Grace" as you've never experienced it: a sermon, a hymn, a celebration, a blessing, and a throwdown. Wendell's guitar will fill your soul with country-tinged gospel, Dixon's falsetto will transport you, and the three-part harmonies will break your heart.
You'll never get through the collection, and you won't want to. You'll keep stopping to go back and find the original albums, all 37 of 'em, and that'll undoubtedly lead you to backtrack even more thoroughly through the Alligator catalog.
Happy anniversary, and thanks, Bruce, for 45 years of glorious musical memories.