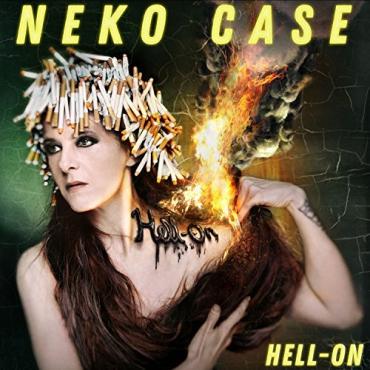 There was a time when Neko Case was being hailed as the resurrected Patsy Cline, and/or a resurfaced rockabilly relative of Wanda Jackson's. Case's Cline/Jackson fixation ran for nearly a decade, from 1997's The Virginian through 2006's Fox Confessor Brings the Flood. But even when she was interpreting country, Case's lyrics were far afield, a head-spinning mix of Faulkner and Captain Beefheart, with affairs of the heart a frequent topic. Her music was more country flavored back then, but Case never limited herself to one genre, always mixing in elements of folk, rock, and pop.
For her latest, Case has hammered out a framework that utilizes building materials from all three. The title cut sounds snipped out a sheet of steel for an industrial sound that clanks about a stark landscape on metal legs, lubricated by Case's ethereal warbling over the top. But this one requires a bit of work to hang with. It seems at first that she's trying to figure out the Almighty, treading carefully around his badassness: "God is a lusty tire fire/Its bristles scrape and strike the stage/A rock-paper-scissors rage/Have mercy on the natural world." But later on, she reveals herself as the badass, an agent of the natural world who has some gravity you ought not to play with. "I am not a mess," she proclaims." I am a wilderness, yes/But you'll not be my master/You're barely my guest/You don't have permission to take any pictures/Be careful of the natural world." Duly noted.
Moving on, "Last Lion of Albion," with a little help on backing vocals from k.d lang, is industrial pop, jagged beats that sound pounded out by sledgehammers with Case sailing the galaxy in a vehicle with Beefheart in the pilot's seat: "Laid in the heavens that are already bought/Sleeps a red planet in a galaxy of your lion's thoughts."
"Bad Luck" is the most approachable, melody-wise, like the '60s girl group the Shangri-Las taking a break from walking in the sand and playing boyfriend kissy-face to discuss bad-luck harbingers including "Woke a dog from a running dream/Ate a black fly in the cream/Chipped my tooth on an engagement ring."
Screaming Trees alumnus Mark Lanegan guests on co-lead vocals on "Curse of the I-5 Corridor," as close as Case gets to her former country output. You could file this one under metallic country rock, but this one crosses back and forth across so many lines it's hard to pin down, telling the story of two former lovers meeting in a bar after a long absence and considering reuniting for the night. The lyrics are a strange mix of lovelorn country and spaciness. Case has the country part nailed down with the lines "You were a good man before you knew it/And I'm not vain enough to think that/I'd have been good for you if I'd stayed/In the current of your life," but shoots it out into orbit with the follow-up: "I was an eyelash in the shipping lanes."
But its too easy to dismiss Case's songwriting as obtuse meanderings. "My Uncle's Navy" straightens you up like an overhand right to the jaw. Her depiction of a childhood bully is a chilling look at a family monster who pulled off the heads of garter snakes, cut the ears off fighting dogs, the kind of man you "cry yourself blind about/Kind that choke you out." She has a few choice words for his enablers as well. "I hated those who gave him access to our day/the ones who did nothin'/I still can't love them."
It's Case doing what she does best, expanding her own seemingly limitless horizon in an inimitable style that's as fascinating as it is confusing.