Album Review
New album from Craig Donaldson carries spirit of Neil Young and the Eagles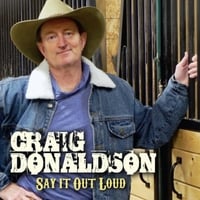 Singer/songwriter Craig Donaldson is blessed with a warm, soothing croon. You don't often hear a country voice sounding like this emanating from Nashville these days but then Donaldson is based in Colorado. He is miles away from the pop machine of Nashville, where big, deep voices are bred and blasted through corporate country airwaves. Donaldson's singing is downright subtle compared to that crowd, one of the reasons why his latest album, Say It Out Loud, is so instantly appealing.
Donaldson echoes the profound longing of Neil Young on "The Horse You Rode In On," a tale of unrequited love that is given a bittersweet undertow by John Macy's plaintive steel guitar. Donaldson tells the story with Young's breathy, aching delivery a la "Harvest Moon." The Young influence is also apparent on "Under the Night Sky," a lovely ballad that caresses the heart like a soft pillow. This is beautiful music.
Donaldson's tastes in country music no doubt have a West Coast flavor, not just Young but the Eagles as well. "California Time" has the breezy, laid-back grooves of the Eagles in their prime. For those who prefer their Americana to have a '70s California flavor, Say It Out Loud will prove to be a delicious feast.
Website:
http://craigdonaldson.homestead.com