Album Review
new and different but the feel is there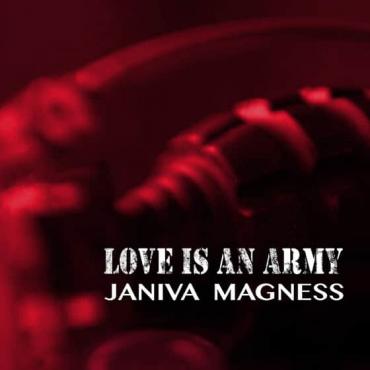 Janiva Magness
Love Is An Army
Blue Elan Records
   A person might think after the fantastic year Magness had in 2016 she might take a break, but not here, she is roaring back with this disc which is filled with 12 songs 4 written or co-written by her but also in a bit of a different groove.  I will try not to give things away here, however she takes on some songs that are not blues and she knocks them out of the park with that tremendously soulful/emotional voice of hers.  
   This is not all new 'stuff' for her as he is reunited with Dave Darling as Producer and guitarist and also has some very well known names from the Blues world making appearances such as Delbert Mclinton (vocals), Charlie Musselwhite (harmonica), Cedric Burnside (guitar), Rusty Young (pedal steel), also Courtney Hartmam of Della Mae (guitar/banjo).  Then there are members of her band that runs this out and play on most all the songs.  Most importantly there is the feeling and emotion that she infuses into each song that makes it special no matter the style that it is played, her emotion infused voice is what gives each of the songs it's special touch that lifts it above the crowd by a full head and shoulders.  
https://www.youtube.com/watch?v=JtI3oraOZM4
   Though the majority of this disc is not the blues for which she is known, do not sell it short because it is laden with that soul and emotion that drives the blues home each night.  This is that special voice that would make a special song out of "Mary Had A Little Lamb, " and probably start you crying just hearing her rendition to it.  It is good to know that all the well deserved and long overdue accolades of last year did not deny us a gift for this year.  
by bob gottlieb