Album Review
New Ben Franklins Offer a Dual Delight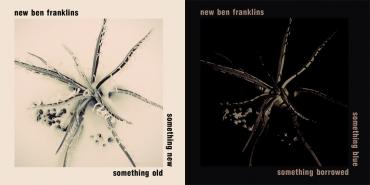 Colorado-based band New Ben Franklins boasts a discography that goes back to 1992, but if they've yet to achieve a big breakthrough it has nothing to do with their efforts to parlay a strict roots rock regimen through a sound they have strictly defined.
Two recent releases -- Something Borrowed-Something Blue and Something Old-Something New -- show their penchant for mixing revelation with rumination via an uplifting, occasionally off-kilter attitude. Even songs with low-cast titles like "I Don't Know What's Wrong With You Won't You Break My Heart?" and "Whatever Happened To What's His Name?"manage to maintain an upbeat approach. Still, it takes a tune like "Here Comes Chris" and a cover of Tom Waits' "Jockey Full of Bourbon" to fully convey their effusive intents -- a sound borne from a fusion of Bo Diddley-ish beats and Buddy Holly-ish melodies, with a smattering of twang tossed in for good measure.
Likewise, their cover of "Bob Willis Is Still the King" shows their dedication to purpose. Any band that can tackle an Echo and the Bunnymen tune like "Bring on the Dancing Horses" or dabble in a psychedelic soiree along the lines of Catherine Wheel's oddly intriguing "Salt" deserves credit for sheer confidence.
These twin releases have eight and nine songs, respectively (plus a pair of hidden bonus tracks on the former). They track midway between album and EP, and show the band's strength in melding the sound of perky pop with high-lonesome Americana, making a definitive statement about the band's abilities to find an easy compromise between both. 
While the New Ben Franklins may not show their namesake's propensity for invention, there's no denying their particular perspective. Credit them with the discovery of a unique kind of electricity.