Album Review
New Craft Recordings Vinyl Compilation Highlights American Primitive Music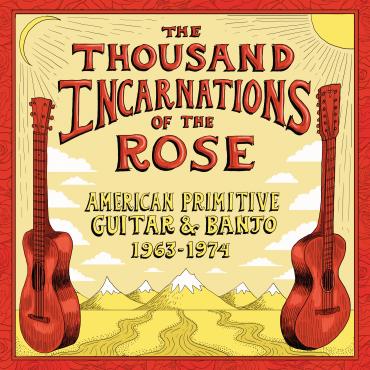 The Thousand Incarnations Of The Rose: American Primitive Guitar and Banjo (1963-1974) is a verbosely titled, multi-faceted, complicated release. The double-LP collection, which includes 17 tracks from 10 musicians, is part historical compilation and part new festival accompaniment. In terms of the former, the set offers an in-depth look at the leaders and unsung heroes of the American Primitive movement of picking during the decade between 1963-1974. As for the latter, The Thousand Incarnations of the Rose compilation was also specifically released by Craft Recordings as a companion piece for a three-day, not-for-profit music festival of the same name. The Thousand Incarnations of the Rose festival, which takes place April 13-15, 2018 throughout multiple venues in John Fahey's hometown of Takoma Park, Maryland, aims to honor the American Primitive/Guitar Soli movement by united these genres' most established and most promising players.
While the name and concept of The Thousand Incarnations Of The Rose: American Primitive Guitar and Banjo (1963-1974) might be unwieldy, the album and vinyl packaging are anything but. The four slabs of wax are housed within a concise, yet deluxe gatefold package featuring a seven-page booklet attached from the inside spine. Illustrator Drew Christie (who also designs the inside issue covers for our print journals) fills the cover and interior panels with endless roses and imagery that veers between simple, symbolic, and psychedelic. Producer Glenn Jones, an expert in American Primitive music and established musician in his own right (through his solo works and as part of the post-rock Boston band Cul de Sac), curated the track list and wrote extensive liner notes to contextualize the set.
In the intro, Jones attempts to define American Primitive and decipher its lateral movement from visual art to music. He describes it as, "a term originally coined to describe homegrown painters of the 18th, 19th, and 20th centuries who were self-taught, not trained academically. A sort of naïve charm, which includes such qualities as distorted perspective, a sometimes curious rendering of anatomy, and an unrefined use of color and modeling, characterizes their work." From there, Jones tries to navigate the murky genre waters, ultimately picking out a list of similar musical traits within the American Primitive musical movement — instrumentals, fingerpicked guitar work, open tunings, modal scales, and borrowed elements of non-American cultural expression.
As a result, The Thousand Incarnations Of The Rose includes writers and performers who excelled in all of these forms of American Primitive music. John Fahey is often credited with pioneering the genre, and his works symbolically bookend this collection. But Indian-influenced experimentations from Peter Walker sit by ragas by Max Ochs on Side 2 and a George Stavis piece taken from his descriptively titled album Occult Improvisational Compositions for 5-string Banjo and Percussion opens Side 4.
All 17 of the pieces on The Thousand Incarnations Of The Rose: American Primitive Guitar and Banjo (1963-1974) have been previously released via Vanguard Records and Fahey's own label, Takoma Records. But this compilation by Craft Recordings serves as one of the most comprehensive looks at a transitional time in American roots music. While listeners can effortlessly listen to the curated set from front to back in nearly 90 minutes, it's just as easy to get lost in the descriptive liner notes and history of the genre for hours.