Album Review
New Music From Legendary Singer-Songwriter of "Good Time Charlie's Got the Blues"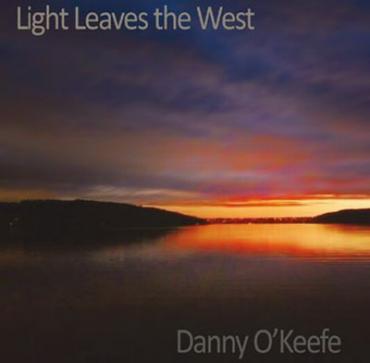 First Album In Seven Years By Legendary Singer-Songwriter of "Good Time Charlie's Got The Blues," Whose Songs Have Been Covered by Elvis Presley and Jackson Browne
I could begin this review by citing all the hits this man has written and all the famous artists who have covered his material. But, this is not about reviewing a man's past glories, and many people know who Danny O'Keefe is. If they don't – then this is an opportunity to be reintroduced to the artist in 2015 doing what he does best now.
Let's just say that O'Keefe has a respectable track record and he doesn't need anyone to substantiate his successes. This is not a trip down memory lane...not an oldie but goodie resurrection, no synthesized song re-recordings, or a moment to savor past glories. If you've never heard of Danny O'Keefe, this new album, Light Leaves the West, will be like listening to a new artist for the first time. It was for me.
Additionally, O'Keefe is too wise an artist to employ modern day slight of hand. He isn't going to try and sound like someone who is hot today. If O'Keefe ever had anything going it was confidence in what he did and what he had accomplished. Is the album then a retro veteran artist? No, it isn't. It's an artist who knows that time doesn't get old. It passes you, but of itself, time doesn't get old.
So, the artist has to take what worked in the past, and recognize how viable it is in a new hour. As I listened to this new album -- seven years since his last -- I made one clear distinction. Danny O'Keefe – like Elvis Presley and Tom Jones – has a voice that has not failed him despite age. And because, unlike those famous artists, Danny is a songwriter as well – his pen hasn't dried up, his mind has not drained of inspiration. The material, if it's different in any notable way, is still creative, still polished and original – but, it does have a renewed energy and maturity. I guess that's what they call a professional.
The first track "You Don't Have To Be Right," starts off with whining melodic guitars and Danny's classic vocals are instantly recognizable with its warmth, sincerity and seriousness. Some songs should be humorous, jaunty and playful but there are some songs that are just as melodic and important in their seriousness. "You don't have to be right, to be ready..." is classic O'Keefe simplicity. It sprouts from roots of tradition. The addition of retro organ and background female vocals doesn't date the music, it enriches it with authenticity. 
The old school rock beat spills from the speakers as O'Keefe tightens the reins and "Hardball," chugs along with Don Nix energy. Don Nix – famous for the often covered "Goin' Down." The only thing this song lacks here is a strong Memphis horns section. But that too, doesn't make this fine song any less interesting. Co-written with Gary Wright the feel is like something out of a Leon Russell arrangement. The background female vocals are crisp and soulful. There's almost a hint of Steve Cropper type lead guitar that winds through the melody – courtesy of John Morton. Danny doesn't hold back on the grit in his vocal approach. The song percolates through the speakers like an old pot of coffee fills the entire room with a wonderful scent, or here – wonderful sounds. If I have any problem with it, it ends too soon. Just when I was getting into the groove, and my ass was shimmying in my swivel chair, it was over. Thank goodness for replay buttons right?
"Ultramarine," is laid back, nice cymbal swishes, and the classic O'Keefe melodic hook not only musically, but lyrically. It's a soothing blues tune, it doesn't take any skin off  your back – but, it will tug at your ear with a resonant sadness. The lead guitar is Danny O'Keefe himself and it aches the way David Gilmour's guitar aches in many Pink Floyd classic songs. The song reeks of modern day O'Keefe – his voice is like brandy, smooth and strong. It lingers long after your ears have swallowed it. If you're a young singer-songwriter, Dylan is a must, Townes Van Zandt is necessary, but don't ignore the validity of a Danny O'Keefe.   
"Tooth and Nail," starts off immediately with rock and roll urgency. The guitars slide like a snake, O'Keefe's voice weaves with Mick Jagger intonation over the waves of guitars. John Morton and O'Keefe lay down some dirty wicked guitar lines between them. No under-estimating Danny's ability to sing great Americana-roots songs and then turn around and splash a little Strawbs-oriented David Cousins and David Lambert signature energy lines. Anyone familiar with Strawbs – knows what I'm talking about.
Hungry for traditional flavored Danny O'Keefe – with no outside influences or comparisons? "The Ice Cream Changes," is the song. This reaches back just a little into a doo-wop genre and with its acoustics, it's steady and infectious. Wonderfully punctuated drums, and Danny's warm, bright vocals and syrupy background vocals. It's all quite imaginative and excellently arranged. If doo-wop still existed today, and was more widely respected all these decades later and not treated as bygone novelty music – this would be the ideal example. This is not silly stuff – this is a solid revisiting of doo-wop as a valid genre – and it sounds as fresh as the first time you may have heard that melodic, inventive song structure. It is done so good, it almost sounds like The Beach Boys are backing up Danny. Now there's an idea.
There must always be one Danny O'Keefe ballad, and this acoustic driven tune – "Blue Desire," is meditative and lean. Nothing heavy, nothing too intense. Co-written with the fine, Kentuckian singer-songwriter Jennifer Kimball -- it's a balanced story song and not too overly dramatic. However, that doesn't mean I wouldn't have recommended it to Roy Orbison to cover.
Dan was never an artist who would just focus on any one style so hearing a little jazzy, bossa-nova natured tune -- his diversification in "Help Me Up," is to be expected. He cleverly and effectively uses his background female vocalists, with support from keyboards and guitar with a mellow, almost Les Paul-Tony Mottola style. Is this for everyone? Probably not. But, those who love and respect this kind of lounge-middle-of-the road shuffle approach, with its relaxing late night FM radio feel. The song is actually quite impressive. Songs don't always have to justify their importance with laser beams, smoke machines, drum solos, synths, fiery lead guitar and sparks rising from the piano to be meaningful and striking.
"Eddie Hinton" is a song about the late musician – a Muscle Shoals session player who had played on so many classic records the list is just too long to mention here. But, lets just say, Hinton played on records made famous by Wilson Pickett, Aretha Franklin, The Box Tops, Otis Redding, Boz Scaggs and even Elvis Presley – to name a few. The reason for his inclusion is that Eddie played also for Danny O'Keefe. This tune cooks from the moment it leaves the gate. Danny sings with that John Hammond blues confidence. The slide guitar and harmonica are courtesy of Joel Tepp. The percussion is steady, the song is fiery in a cool Delta way. O'Keefe sings in his most effective and excellent blues tone. It would have been so great had Danny teamed with the late blues guitarist John Campbell. What a team that would have been. Don't tell me a white man can't sing the blues.
A heart felt ballad about extinction follows with "The End of the Game,"  and it's proof positive that Danny has never lost his "voice" for meaningful, insightful songs. Phil Ochs was a great protest oriented singer, but Danny O'Keefe was the environmental movement type singer and that made him an equally important artist.
This is true Americana music – reverent musicianship, with a lyric that addresses firmly a serious subject that is often ignored, or not entirely understood. This is probably one of the strongest songs in the collection. O'Keefe's vocals in their folksy manner are impassioned without over-reaching. It makes him – listenable...even to a much younger audience. He does not preach, his voice is not angry or challenging. He is, however, posing thought-provoking music. He always gets his point across with honesty. So, you haven't heard from Danny O'Keefe in awhile and you wished you could hear just one more typical O'Keefe classic. 
If that's true -- "More Than You Can Bear," is that song. A reviewer can be negative about new songs but one thing no one can deny: Danny O'Keefe here is still 100% O'Keefe and he's firing on all 12 cylinders. This is how I remember the original O'Keefe. I still see him the way he was when he wore his fur cap with full beard beside a tall tree. Yes, this has all the magic of the young O'Keefe. No posing, no artificiality. This album has been satisfying.
 "Soul Provider" meets the criteria of a commercial song. Nice back-up vocals, simple vocal, mid-tempo tune. Unlike many singers from the past, Danny is not emulating himself. Neil Diamond has matured, Dylan certainly has, Tom Jones with his newly invigorated blues attack has, and not every singer-songwriter matures successfully in this manner. Audiences are fickle. Steer away from what made you and you gamble your image. 
I said this earlier in another review...but, as I listen to certain artists I can only reiterate: Danny O'Keefe is one of the best reasons for any young person to put down their cell phone and pick up a guitar. Many people can hear you on your cell phone and social site. But, far more people will listen to you if you have a guitar and a song to sing.
Just ask Mr. O'Keefe – people have been listening to him for decades.  
The CD package is a beautiful colorful 4 panel die-cut package with sepia picture of Danny O'Keefe on the inner sleeve. There is no stitched lyric book unfortunately. Maybe next time.  
Produced and Engineered by Garey Shelton  // "The Ice Cream Changes," & "Weathered" was produced and engineered by Mick Conley
Album:  Permission has been received in writing from Danny O'Keefe to post these song samples and link to Soundcloud of his new album "Light Leaves the West." 
Photography: Credit is listed where photographers were known. Photography on the album "Light Leaves The West" courtesy of Davis Freeman and cover photography by Danny O'Keefe. Color picture at top is Joel Tepp and Danny O'Keefe live.
Website:  http://www.dannyokeefe.com/
FaceBook:  https://www.facebook.com/pages/Danny-OKeefe/102048227375
Soundcloud:  https://soundcloud.com/okdanno/sets/light-leaves-the-west/s-YSyuc
Disclaimer: The opinions expressed in this review / commentary are those of the author and do not necessarily reflect the official position of No Depression. All photography is owned by the respective photographers and is their copyrighted image; credited where photographer's name was known & being used here solely as reference and will be removed on request.
John Apice / No Depression / September 2015