Album Review
New Sam Blakeslee Quintet album is stellar example of modern jazz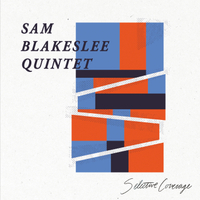 The Sam Blakeslee Quintet is a group with a very smooth and detailed sound, distinctive for its kaleidoscopic, creative, and edgy feel. Their most recent release, Selective Coverage, is a stellar example of modern jazz, showing the potential of artists who aren't afraid to think outside the box and perform outside the lines.
This release is the perfect organic portrait of a group that has much chemistry, allowing itself to experiment and try new things out, avoiding to remain pigeonholed in any given category or style. One of the most prominent features of this record is certainly the beautiful sound of the production, which flatters the natural talents of these musicians, rather than suffocating their performances under layers of studio trickery. There is significant transparency to every facet of this release, allowing the performances to be very compelling and easy to relate to.
While embracing the smooth elegance of traditional jazz, this LP really goes one step further, embracing a contemporary creative approach that often tips the hat to challenging melodies and arrangements which aren't commonly found on standard jazz. The Sam Blakeslee Quintet really stands out from the crowd.
Website: