Album Review
Nick Lowe's Pub Rockin' Return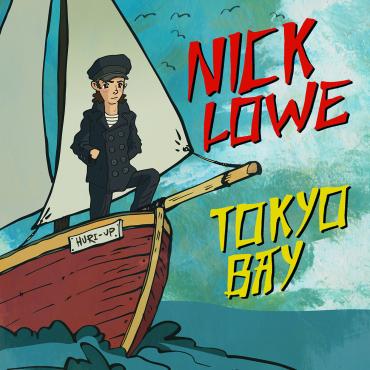 Its great to have Nick Lowe back again with rockabilly/pub-rocker persona intact. His tours with Los Straitjackets seem to have awakened the skiffle side of Lowe that had gotten stuffed down in the space between the seat cushions of his crooner phase. Not that there's anything wrong with a mellow Lowe, its just fun to see him rockin' like his Rockpile days, bopping to the beat that moved previous Lowe goodies like "I Knew The Bride."
With Los Straits as your backing band, it'd be hard not to kick out the jams a bit. It's a pretty safe bet that the 69-year-old Lowe won't be doing any stage diving or guitar smashing, just genteely rocking in an entirely satisfying manner that pleases his multi-generational audiences.
It's been five years since a Lowe release, and the singer says he wasn't in any hurry to put out new material because his touring career had been so successful lately. But the idea of an EP appealed to him, and with a band at hand already familiar with the material from performing it on tour with him, cranking out four songs was an easy way to get back into the studio.
The version of Cliff Richard's "Travelin' Light" served up here is a far different than the version Lowe opened with for his 2012 Yep Roc 15-year celebration at North Carolina's iconic all-ages showcase, the Cat's Cradle. That version was a whimsical, acoustic, low-key presentation that kept threatening to break out into full-bore rockabilly but pulled back just before climax. The EP version utilizes the Straits to the fullest, their twin guitar attack with Eddie Angel sustaining the rockabilly framework/Link Wray fuzz tones while Danny Amis' Dick Dale-style surf licks slap the shore with the help of third guitarist Greg Townson, who came onboard in 2010 when Amis was battling plasma cell myeloma. The tempo belies the title, Lowe and the Straits lugging some Rockpile in their luggage, twanging away lustily as Lowe pub rocks it at a comfortable lope.
"Heartbreaker" has a Ventures surf soundtrack mixed with a '60s pop sound akin to British invaders Freddie and the Dreamers. Originally a Bee Gees song, Lowe and company thankfully have removed the adenoidal gymnastics, reworking the tune while utilizing it as an soundcheck vehicle.
The title cut displays Lowe's wry sense of humor, glamorizing the industrial sludge that masquerades as landscape along the real Tokyo Bay by replacing it with a tropical version replete with pristine sand, palm trees, and a geisha pining for him under a parasol out on the quay. It's twangy rockabilly with Lowe crooning like a pop star on vacation.
"Crying Inside" is classic Lowe, mellow rock with a dangerous undercurrent wanting to pull you toward the dance floor that would have fit well during his Cowboy Outfit days that spawned 1985's Rose Of England.
Its a nice tease for more product Lowe is said to start working on this month, a great inside look at what the veteran rocker is keeping alive on his energetic live roadshow with the Straitjackets.