Album Review
Nighthawks' Back Porch Throw Down for EllerSoul debut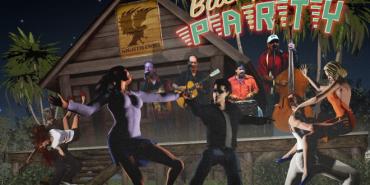 The Nighthawks debut on EllerSoul Records is more of the same house rockin' bar bands blues the band has been putting out since their inception in '72. But blues is just a very general term for what founder and only remaining original member Mark Wenner has always contended, that his conception of the band was not a white boy blues band but an American music band reaching to a variety of musical sources."I wanted to play an Elvis song as much as an Otis Redding song as much as a Muddy Waters Song," Wenner says. "It didn't seem as though I was violating some sacred rule by going from one to the other-made perfect sense to me." He demonstrates that early on the band' s latest, Back Porch Party, with a cover of Patsy Cline's country classic "Walkin' After Midnight."Wenner's take is rough, down and dirty, his harp wailing like a lost soul as the band vamps behind him somewhere between country and swing.
Ike Turner's "Matchbox  has its rough edges smoothed out, more swing than the raucous gritty juke joint stomp of Turner's original featuring Turner sounding uncannily like a frenetic Little Richard.
But when it comes time to deliver old school blues, the Hawks still dish it out with respect. Muddy's Rolling Stone"
is a dutiful copy of the original, not an impersonation, but a heartfelt tribute.
And if you're in the market for  a quick rockabilly romp, "Hey Miss Hey" re-creates '50s era greased pompadour 'billy so vividly you can feel your Elvis gland wake up and start pumping wiggly fluid into your pelvis.
The boys may be out on the porch, but they ain't taking it easy. Hang on tight- there's a whole lotta shakin' goin' on.
Back Porch Party - Nighthawks
Grant Britt