Album Review
NJ Band Takes Expressive Route with Lively Alternative Dance Hall Inspired Folk-Rock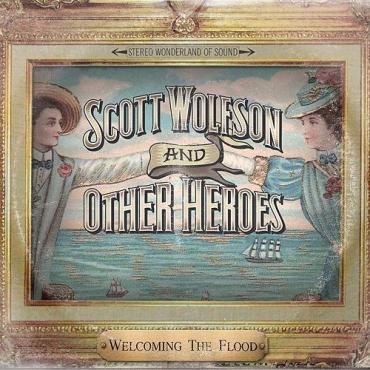 This band doesn't hesitate to ignite like a match on their fiery second collection "Welcoming The Flood."
Scott Wolfson and his cohorts sew together a tight, fast musical tapestry with their dancehall-oriented opener: "Never Going Back Again," and if you listen carefully and can get through the spider web of guitars – there's a honky-tonk piano that swims under the surface that's hot and spicy. Wolfson sings fast, serious and energetic and if this doesn't rope and tie your ears into wanting more...then nothing will.
The second excursion is a little Spanish horn inspired and Wolfson's vocals are warm. What's truly remarkable is that he basically sounds like few singers today. There is a little country Robert Ellis Orrall style phrasing and tone to Wolfson's voice. Orrall had some wonderful hits recorded by others, but in the late 80's he had an album called "Special Pain," which featured great tunes like "Tell Me If It Hurts," and Robert's duet with Carlene Carter on "I Couldn't Say No."  This is where my ears hooked into when I heard Wolfson's impressive vocals on "And the Band Plays On."  The song has a potency that helps to lock in immediate interest. Clever little percussion punctuates the tune and after two tracks I was intrigued. I looked forward to the next one and I wasn't disappointed.
The piano driven "Unloved Daughter," is the strongest melody on this collection. Wolfson sings with confidence, maturity and even though it solely depends of the piano of Skyler Bode -- Wolfson's vocal is song and effective with lots of spirit. Three songs in and the album displays diversity that is exceptional. This is a band with polish on their presentation and unlike some albums that depend solely on thrilling instrumentation to carry it this album is song driven and vocal highlighted.
Scott Wolfson plays acoustic guitar and vocals throughout the album and on "Johnny Gray," he intones with a little more restrained voice. But the tale of "Johnny Gray," is first class folk-rock.  The highs and lows are all paced wonderfully, and the back-ground singers are the wonderful Ira Scott Levin and Julia Bordenaro of The Levins who are effective with their gentle, breathy, ghostly and hauntingly intriguing vocals on this track. Scott puts his vocal to the accelerator and the song lifts off. There's some nice Matt Laurita and Mya Byrne guitars – and Matt and Mya (lap steel) play so many different guitars and stringed instruments they are no doubt playing a key role on these tunes. This was a beautiful song…well worth multiple plays.
For effect I guess, the fifth track opens with that annoyance of scratchy old records. But "Invisible Man," doesn't take long to pick up its pace and the acoustic guitars chime in nicely. If nothing else, the musicians on the tracks are proficient and provide sufficient flavor. Usually back-ground singers are just that, back-ground. But so far on several tracks where they have been used these singers have been exceptional. The acoustic guitar solo here by Matt is gripping and it balances the drive in the melody. Wolfson never stays too long to bore a listener. He's in and out and you are left…wanting more. And these tracks do just that.
Again, with a voice very much like the rock version Robert Ellis Orrall, the songs "On Avalon," and "We Can't Go Home Again," -- Scott scours his musical gifts to highly polished melodies. This is a bouncy hit inspired track: "On Avalon" -- is only 2:13 long. "We Can't Go Home Again,"  and its poignant and spacious with Chris Kelly's sharp, snapping snare shots with precise hi-hat taps that elevate this song nicely. This is one of my favorites and it has distinctive acoustic guitar picking. The album continues to unload as I'd suspected -- packed with effective songs, all stand-alone efforts and with wide musical breadth.
"Wears Me Out," chugs along with instruments sewn together tightly and pushed along by an insistent Skyler Bode accordion. What guarantees that these songs all present themselves with healthy doses of grooves are the varied instruments integrated into zealous arrangements. Wolfson's vocals are just strong enough without being overbearing or always center of attention. He leaves plenty of room for his musicians to shine. He may be the sky in this band but, the stars all shine on their own and brilliantly.
A duet song with Honor Finnegan is similar in spirit to the duet that Robert Ellis Orrall did with Carlene Carter and "Life and a Day," is genuinely exciting. Accompanied by a pulsing acoustic guitar and drum shuffle the song is fun and shouldn't music be fun?
"Me On Other Planets," begins with strsind of mandolin and Wolfson displays again his broad sweeping style. On this track Wolfson reminds me of another singer who has multiple albums out but is probably more well-known in the UK: Martin Stephenson and the Daintees. Stephenson mines the same vein of melody and lyric with equal quality. Matter of fact, anyone who enjoys Martin's music and recordings would embrace New Jersey's Scott Wolfson and Other Heroes. I have played both artists back to back and they are together seamless. Each has their own strengths – but, they complement one another very well. There's a nice old world calliope style to the music as it plays – and Wolfson's vocal is, as always, charged with expressive vocalizing and tone.
The closing track is a sing-a-long with power. "We Will All Die Together,"  -- a driving melody and Wolfson uses his wide range to really coax a reluctant ear. The overall sound is a bit inspired by England's Stackridge who have performed this type of music for decades and are also multi-instrumentalists. (They were once produced by The Beatles' own George Martin. I would go as far as to suggest that George Martin would have entertained the possibility of producing someone like Scott Wolfson and Other Heroes as well had fate given him more time. They sound like a band Sir George would have appreciated).
The banjos and other acoustic instruments on this tune never sound relegated as backup instruments. They are engaged and play with sparks. The songs are all impeccably recorded…in Brooklyn, NY by basically, a New Jersey band! Ha…. how incredible is that? I would have thought Nashville or Austin had given birth to this baby but I would've been wrong. This final song is dramatic and the end is a charm.
Forty minutes of music that takes an expressive route into your ears. It all has traction and it's a pleasurable ride I will take again. Many side musicians added to the success of this music – too numerous to mention. But a respectable hat tip to all – I had to sit through it all with a sharpened pen poised to criticize but found nothing to discourage anyone. Even the CD package which reflects the music contained is very well conceived. The art was designed by Scott Wolfson who did a fine job. Kirk Siee assisted with the old timey logo for the band.
There are too many instruments to list – but the main band and their main contributions consists of: Scott Wolfson (Vocals, Guitar), Skyler Bode (Keys, Accordion), Matt Laurita (Guitars, Banjo), Kirk Siee (Bass, Ukulele), Chris Kelly (Drums) and Mya Byrne (mandolin, Guitar).
The album was produced by Scott Wolfson and Chris Kelly.
I am proud of this band for another reason – I am originally from a town just north of Jersey City and it thrills me to know they have musicians like this performing today. And the educational system doesn't want to teach musical instrumentals in schools? Listen to these dudes…these people are magicians…wizards…above all, musicians from Hudson County, NJ. Whoa…toss some cold water on me.
Website:  http://scottwolfson.com/
FaceBook:  https://www.facebook.com/swotherheroes/
Revernation: https://www.reverbnation.com/scottwolfsonandotherheroes
Disclaimer: The opinions expressed in this review / commentary are those of the author and do not necessarily reflect the official position of No Depression. All photography is owned by the respective photographers and is their copyrighted image; credited where photographer's name was known & being used here solely as reference and will be removed on request.
John Apice / No Depression / April 2016