Album Review
Nobody Does It Better Than Shemekia Copeland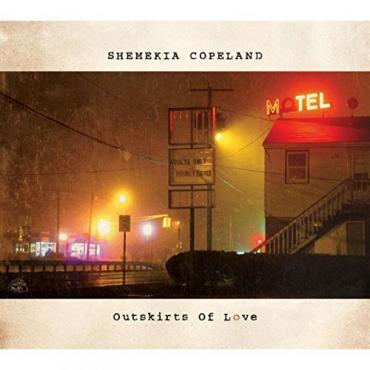 Shemekia Copeland didn't start out to be a singer. At age eight, she already had her profession picked out: psychiatry. But watching dad Johnny Clyde's power and determination inspired her to follow his lead. He performed when his heart problems were so severe he could hardly climb onstage, but once up, he played to a crowd of 15 like he was playing to a sold out house.
By the time Copeland was 15, she was traveling with him, thinking she was helping out on the show. But in later years, she realized he was grooming her for the spotlight.
Nowadays, when Shemekia Copeland opens her mouth, everybody pays attention. Her blast furnace delivery and bombastic performances have made her a hard act to follow in any genre. Her latest, Outskirts of Love (Alligator Records), confirms her status as diva supreme in a variety of musical settings.
Blasting away on the title cut, backed by producer Oliver Wood's fiery guitar licks, Copeland delivers scathing descriptions of love-ravaged victims. Poignant lyrics -- by Wood and Copeland's manager/executive producer John Hahn -- portray a gritty slice of life: a woman in a wedding dress waiting at a bus stop, holding a suitcase tied with string, all she has left since she pawned her wedding ring, living on the "Outskirts of Love."
Daddy's "Devil's Hand" gets relocated from a sizzling Chicago back alley to Ghana, bouncing hornily along, buoyed by Kuti-style guitar licks from Wood, with help from Will Kimbrough.
Copeland takes Brownie McGhee and Sonny Terry's "The Battle Is Over, But the War Goes On" to church, testifying like Mavis Staples. Once again she's bookended by magnificent, blistering guitar work from Wood and Kimbrough, filling the very large shoes of Arthur Neilson, Copeland's touring guitarist for the last 17 years.
Exceptional guitar is in abundance on this disc. ZZ Top's Billy Gibbons sits in on the Tops' '73 Tres Hombres cut, "Jesus Just Left Chicago." Copeland is back in church, fronting Reverend Gibbons' fuzzy, beer-soaked blooze guitar with celestial Mavis Staples-like shouts. Up until '02, Copeland tried to be Koko Taylor, screaming herself raw. But after that year's Talking To Strangers release, she developed restraint without losing any of her power, as she demonstrates here. She pierces your soul without shattering your eardrums.
If it's soul you're craving, her rendition of Solomon Burke's barroom hymn "I Feel a Sin Coming On" will make your cup runneth over. Copeland goes all Aretha at Muscle Shoals on us, splattering the walls with homemade sin.
And for a shining example of that aforementioned restraint, check out her take on Fogerty's "Long As I Can See the Light." She's killing it by barely holding back the power you can feel throbbing in reserve, leaving you trembling on the brink of sin or salvation, wanting to be saved by soothing soul but aching to be sinfully pressure washed by her power and glory.
This is the best effort of her career. Copeland tops herself on cut after cut. This is how you do it, and nobody does it better than Shemekia Copeland.
Grant Britt