Album Review
Not A Stillborn Idea Among These Expressive Original Bluegrass Songs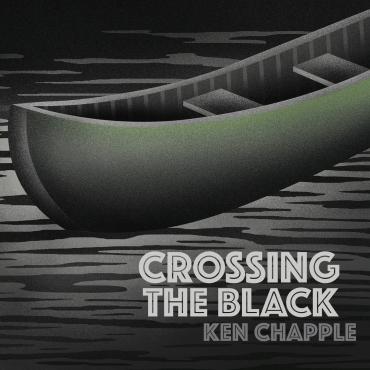 I am often impressed by how a singer-songwriter can choose a relatively simple title for a silly song and then inject so much melody, ingenuity and musicianship into it that the title becomes second nature. Currently, Ken Chapple is an Ashville, North Carolina, flatpicking bluegrass guitarist who sings as well on this album. The first tune is the juvenile titled but, impressively rousing "Cutie Pie,"  -- an expressive bluegrass opening number on his fine debut album Crossing the Black.
The Black is The Black River -- an upstate New York river where Ken spent many childhood weekends and summers as a child. The majority of the songs on this collection, are inspired by those years and experiences. Yes, an album's worth and it's quite a trip down memory lane. 
"Golden Belle," continues with a warm invigorating presentation. The mandolin (band credits at bottom) up against the banjo is like sprinkles on a vanilla ice cream cone in summer. Yes, in the summer, as it melts down the cone onto your palm and you have to lick it quickly or wear it. The song is a sticky pleasure and Ken's very inspired bluegrass perfect vocals are sweet. 
The third track is a waltz-flavored tune that has some John Hartford feel that races through the speakers. Creative fiddle playing and plucking, with ample support by acoustic guitars, mandolin and banjo. "See Where She Goes," is a gorgeous song that sounds like it was written more than a half-a-century ago. It has a quaint, comfort creating traditional thread that runs through it. The lyrics are poignant and clever. The singing, and back up vocalists add magic that is upbeat and penetrating. It has a blues type lyrical meter and I believe that's what makes the song unique with a specialty to it -- as a bluegrass tune. The joining of these two classic genres works.
The fiddle driven "Pair of Twos" has Ken's vocals deep and precise. As the song progresses Ken's music builds up slow and aggressive. This is a real attention getting moment especially with headphones. Banjo and fiddle are rich against the melody and this ballad rests it's most powerful lyric on the line "don't hold back now...you're journey ain't over."  I had to put this on repeat. It was that nostalgic for me. I had heard those words many times from my own parents, old business men I didn't know, old women who were like grandmas. It's true....don't hold back now. Good advice.
There's not a stillborn idea among these songs and Ken's music, as a whole, will be at that Bela Fleck / Ricky Skaggs / Doc Watson / Tony Rice / Norman Blake level soon – he won't be a minor league player for long.
"Black River Cabin," is another song that sounds plucked from another era. The way the songs are constructed, the no need for drums. The music as is propels itself with distinction. The acoustic instruments are percussive, they drive everything at a good pace and to a good place. Your ears.
Ken is the sole songwriter of all these marvelous, original bluegrass songs. He arranged and produced every track and that speaks volumes. The collection is impeccable, clean and well-recorded. Maybe it was my music system but, the stereo separation was perfect. Banjo on one channel, acoustic guitars on the other. Sitting in the middle I can almost hear an ambient sound at the center. Another phantom instrument where a speaker was not placed. Scary? Nah, just pure bliss listening.
"Without Your Warmth," reminded me somewhat of the early vocals of acoustic guitar master Leo Kottke (Chewing Pine album) though I believe Ken's vocals are more warm, more easy on the ears and definitely more musical. This is just a simple ballad but the little touch of echo, the aggressive fiddle and steady, ever so steady musical march culminates with exquisite instrumentation.
Now..."Salvation," does sound like a Leo Kottke inspired song. Or at least, a song I could hear Leo Kottke cover. The vocals are in the lower Chapple register and the voice is filled with angst and drama. Sung at a slow pace with cotton smooth backing vocals – it's a thought provoking spiritual type song perfect for late night listening.
Ken's acoustic guitar solo against the mandolin is a nice touch. There's a vocalist who made a vinyl album in the 1970's digitally – it was one of the first -- named Jeff Campbell (Live One On the Wire) – and he had this type of voice. A cross between the serene Cat Stevens and Strawbs' Dave Cousins. Reminiscent in flavor as well to: Colorado's independent singer-songwriter Arthur Gee who released two well-received Tumbleweed Records albums in the 1970's. As a curiosity check: "Confessions" or the two separate tracks: "Love Song 450 and 451" or "Plain Talk." Beautiful stuff.  Stitched lyric / photo book in record jacket. Quite impressive even by today's standards. Samples available on rateyourownmusic.
"Sweet White Clover," has a nice chiming intro with a more intense Ken Chapple vocal. Melodic Lex Browning fiddle surrounds the tune and then Peter Schwimmer's banjo enters the fray, acoustic guitar and backing vocals join with equal drama and speed. The entire song sounds like it's spare on instruments but when combined the notes from each instrument jell and it's never out of proportion with their worth. It almost sounds like a bluegrass orchestra as it chugs along like a freight train on a sunny bright day across wheat fields and corn fields. Big plumes of white smoke trail behind into a blue sky. When each musician takes a solo it's pristine. Dave Grisman and Jerry Garcia would have had wide smiles on their faces listening contently to Ken Chapple.
Next track is the title tune – "Crossing the Black,"  and this could almost be considered the bluegrass equivalent (on a certain level) of Paul Butterfield Blues Band's magnificent instrumental classic "East-West."  While Ken's tune is not that in your face or intense, it has elements of musical trade offs that are ingenious and melodic. I hear a quality in the recording that reminds me also of Poco's classic and beloved "Crazy Eyes." This song used some gentle touch banjo framed by a full head of steam orchestra and this was a country song. For me, one of the greatest ever recorded and I was never a big Poco fan. Too sweet, too sanitzied. But not on this album. A great song is a great song. A masterpiece. Ken's instrumental showcases of his acoustic guitar coupled with banjo, fiddle and Martin Stevens' mandolin performances unleash their intricate-sounding menagerie. Well done.
The final track is upbeat. Ken is supported by a hauntingly beautiful Julie Schmidt voice. The fiddle and banjo work is enticing. How this kind of music can always bring a smile to someone's face is miracle in itself. I listened to this one on a day that wasn't going as smooth as it should have. Yet, it reeled me in and brought me back to earth. I guess it has the same effect that water over rocks in a stream has. It smoothes things over. This is not so much a thought provoking type music. But it can be soul-searching. It's a tonic for the heart and soul. And it eases the blues quickly. I am saying that because "The Wheel," has come to an end and I am going to play it again. Maybe three times. One thing is for certain, Ken Chapple thought about what he wanted to say, how he wanted it to play it and it shows.
Yes, let me repeat myself: there's not a still born idea among these songs. It's worth the time to listen, because you will be recharged in the end. 
The album was recorded in Corbett and Portland, Oregon  
The band:   Ken Chapple (guitar, lead vocals) // Lex Browning (fiddle, vocals on Cutie Pie, See Where She Goes, Black River Cabin, Salvation & Sweet White Clover) // Rob Wright (bass, vocals on Cutie Pie, Black River Cabin, Salvation and Sweet White Clover) // Peter Schwimmer (banjo) // Martin Stevens (mandolin) // Julie Schmidt (vocals on The Wheel)
Website:   https://kenchapple.com/
FaceBook: https://www.facebook.com/kenchapplemusic?_rdr=p
Airplay Direct: http://www.airplaydirect.com/music/kenchapple/
Photography: Laura Jennings – Live Ken Chapple Image with guitar
Disclaimer: The opinions expressed in this review / commentary are those of the author and do not necessarily reflect the official position of No Depression. All photography is owned by the respective photographers and is their copyrighted image; credited where photographer's name was known & being used here solely as reference and will be removed on request.
John Apice / No Depression / October 2015