Album Review
Oberon Rose - Tell Me All About it (LP)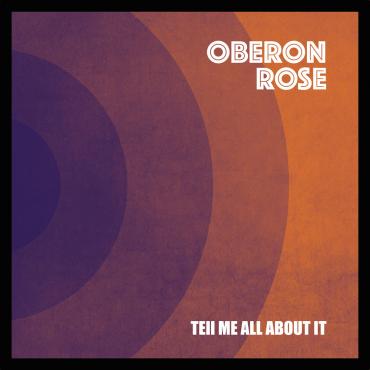 Oberon Rose drops hot new LP
Oberon Rose consists of: Tommy Oberon: Lead Vocals, Guitar, Chris Listorti: Bass, Keyboards and Backing Vocals, Mike Keyes: Drums. Music written, arranged and produced by Tommy Oberon, Lyrics written by Rebecca Rose (hence the name). This latest 9 track LP is called Tell me All About it (2018). Band hails from the East Coast.
The CD quickly takes to flight with rocking intro title track.  This song serves up infectious dual guitars painted against mesmerizing vocals, hypnotic lyrical content and driving rock rhythm that quickly lead you by the hand down the path of musical indulgence. Track 2 No Stranger keeps things rocking with its psychedelic groove painted against a grand mosaic of vivid sound. Track 3 Lonely Ghost is an impressive electro-earthy piece that is quite dynamic, full of tasty keyboard chops, and musical peaks and valleys that flow and ebbs its way through to emotional fruition. All in all one of my favorite pieces on the CD. This piece is remarkably striking to the ears as well with its Alternative Rock touches and hypnotic vibe. As the CD slowly unfolds I can hear many musical influences reminiscent of a classic Modest Mouse, Death Cab for Cutie and The Flaming Lips. Despite this I would classify this music as punk, alt-rock with a UK Indie College Rock aftertaste. I can also hear experimental type music with classic remnants of the British glory days. The CD presents brilliant flashes of theatrical rocked out ambience and all things rock n' roll related. You will also notice rich layers of instrumentation layered along the way full of dynamics, Organ, Piano, solo guitar, well placed harmonies, low end rhythm section, exotic sound effects and enticing melodies. Rose dished out some impressive singing with an appealing vibrato, and impassioned feel, power and control. He's got an appealing visual that is very marketable.
During my initial research I discovered this band is quite the hot topic live. Playing live, Oberon Rose dishes out a cosmic fury and induces the same in their audience. It's hard, it's heavy, it's rock and roll, re-imagined and reinvigorated.  From hypnotic A Place in the Sun to striking Drawn and Quartered to melancholy The Way to Avondale to melodic Twice Bermuda this CD has something for just about everyone.
I wish there were more solo segments throughout - all instruments. All songs over 3.5 minutes tend to drag you to the finish line. Track 2 No Stranger sounds too much like "My Generation" by The Who.
Oberon Roses' latest release Tell me About it is a compelling musical journey. These 9 songs pretty much rock the house. Its strong suit is its amazing sonic ambience and song for song musical flow. These guys and gals get high marks from me for their brilliant musical approach bringing in much instrumentation and musical variety. This CD will be a real joy for those listeners out there who want flowing trippy ambience to fill their sonic space peacefully and unobtrusively. This progressive somewhat trippy format makes for a great extended play experience. I recommend you just hit play, close your eyes and see where the party takes you. So if you're looking for a psychedelic musical experience with sonic ambience, theatrical brilliance and a psychedelic rock aftertaste, then I highly recommend you take a listen to the latest CD from Oberon Rose entitled Tell Me All About it right away.
Mindy McCall