Album Review
Old World Strings : Home By Anoushka Shankar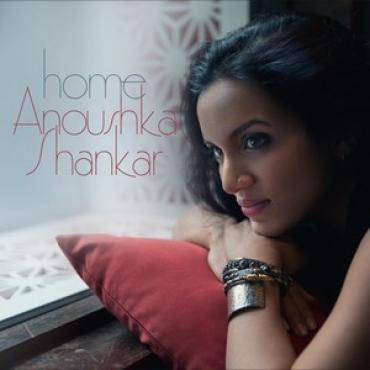 Review by Douglas Heselgrave
Some things can't be written about without diminishing them.  Anoushka Shankar's newest CD of Indian classical music, 'Home' is like that. After listening to it over and over again for the past week as Vancouver continues to suffer through a grass crunching, dust inducing heat wave, I have been searching for words to convey the beautiful essence of this recording.  The album's four tracks have been a perfect companion for the early purple sky mornings, outside watering the garden before the sun gets too high  I've been playing it again each evening, venturing outside  to sit listening under the wisteria as the heat of the day recedes.  Far better, richer, and accomplished than any of Shankar's other CDs of traditional music, it's the first recording I've heard this year that has really taken my breath away and made me race to press 'repeat' before anyone else can switch the music.  It's enticed me to ignore the laundry, alarm clocks and the other myriad and distracting responsibilities that arise in a day.
'Home' is a deep and sensual record.  It is a recording that shares deliberate and lingering, slowly unfolding musical ideas. The music Shankar plays for us is gorgeous, languid and suggestive. The phrasing is highly visual and engages the listener at many levels.  The way Anoushka decorates a raga suggests a thousand possibilities.  In a single note she outlines journeys, destinations; doors hover as we wait to hear which one she'll go through. Listening to the album again this morning, the Alaap section perfectly mirrored the arc of the heat shimmering over the pavement just outside the living room window; the cat's eyes darting after flitting butterflies as they danced through the branches of the blue spruce tree, echoed the jaunty, somewhat mischievous melodies implied in 'Jhod Jala.'  I could go on, but I'm sure that everyone who hears this record will soon have their own private movies to go along with the four ragas Anoushka has recorded here.  'Home' is, without a doubt, Anoushka Shankar's finest recording, and that opinion is not because I'm a classical music purist who believes that 'Home' is simply a welcome return to form.  I have thoroughly enjoyed her recent recordings such as 'Traveller' and 'Traces of You' that explored a variety of musical ideas and stylistic settings.  What's different with 'Home' may be hard to hear at first, but the subtle nuances in phrasing and enunciation are what really makes the recording stand apart from those she's offered in the past.  On 'Home', Anoushka has achieved such a beautiful sound on her instrument, and for the first time it's easy to hear how deeply she has internalized from her father's playing style. Ravi Shankar was a very subtle musician who, as he aged, increasingly realized that he could express more by playing fewer notes, and as much as Anoushka has said she 'loves to play fast', on these tracks, she displays a grace and sense of timing that is equal to her father's.  She has become so confident that she doesn't overemphasize any ideas as she creates such deep, resonant spaces between notes. Worlds are created as the bent and plucked strings create vibrating melodies that hover and glide.The way she coaxes sound out of her instrument is so subtle; a hairbreadth's difference in pressure, hold and release can paint a completely different picture. The delight that Shankar takes in exploring the various subtexts of sound is palpable and reveals an increasing sophistication in her conception of the modern possibilities for Indian classical music.
Anoushka Shankar has always been a really, really good player.  With 'Home', it is in no way an exaggeration to say that she has become a master.  Throughout the record, she consistently reaches musical heights that I had only heard her attain in performance with her father to play music that is truly sacred. She has taken up his mantle and entered a zone very few musicians ever glimpse, while retaining a distinctive and highly individual approach to playing the sitar.  
Home' is Anoushka Shankar's first perfect album. 
This review also appears at www.restlessandreal.blogspot.ca
Sign up for free updates